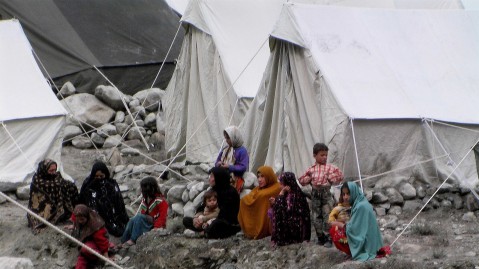 ---
HUNZA:

Federal Minister Mian Manzoor Watoo said on Thursday that the prime minister has transferred Rs800 million to Gilgit-Baltistan.




Wattoo said that the government of Gilgit-Baltistan is using the amount to aid those affected by the Attabad lake crisis.




He also said that proper arrangments have been made for the release of water through the spillways.




Speaking on the occasion, Chief Minister Giglit Balistain Syed Mehdi Shah said that every posisble resource is being utilised to facilitate the affected people and that food availability has been ensured for the displaced.




Wattoo added that the prime minister will announce a compensation package for the affectees of Attabad lake.


Helicopter service starts

Earlier helicopter service started from Karimabad to Gulmit and Sost, for the Hunza Lake affectees, as a result of shortage of food and basic commodities available to the IDPS caused by boat services in the area being suspended as water level in the lake rose to 343.8 feet.



Links with the cities of Hunza Nagar and Karimabad were also severed

Around 36 villages are still in danger of being submerged if the banks of the lake burst.

Residents of the affected areas have been shifted to IDP camps and schools, with the help of the Army.

Meanwhile, Prime Minister Gilani is expected to visit the affected areas tomorrow to inspect the havoc wreaked by rising water levels.

Bait-ul-Maal dispatches relief goods

The Pakistan Bait-ul-Maal (PBM) dispatched 50 trucks of edible and other daily use items to Gilgit-Baltistan for the the affectees.

Managing Director PBM, Zamurd Khan reached Gilgit-Baltistan for distribution of relief items. He would also distribute relief cheques among the affectees.

He assured all possible assistance to the affectees of Hunza, adding that PBM is always ready for the relief of the affectees.

He said the president and the prime minister have ordered that relief work should not be disturbed due to any reason. He said that PBM has constituted around 100 teams to review the work.