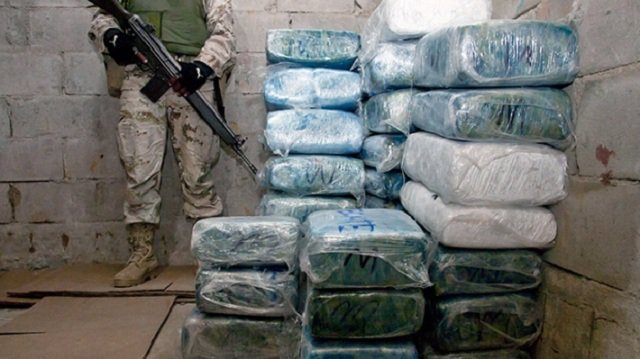 ---
ISLAMABAD: The unflinching resolve of the Anti-Narcotic Force (ANF) to curb drug trafficking from the country has started to pay off.

Following leads in different investigations, ANF conducted simultaneous operations in Rawalpindi, Lahore and Karachi to nab the drug cartel.

"Alhamdulillah, in the last couple of days the ANF has made substantial progress and unearthed at least two major drug trafficking rings, which were mostly Karachi-based," stated Director General ANF Maj Gen Musarrat Nawaz Malik during a presser in Rawalpindi on Friday.

Woman leaving for Saudi Arabia caught with 2kg heroin at Islamabad airport

The ANF DG held the presser on the orders of Interior Minister Chaudhry Nisar Ali Khan to make public the investigation report of Pakistan International Airlines (PIA) drug smuggling case.

The ANF DG said in the last three months, four major cases of drug trafficking had been discovered in PIA planes.

In the first case on April 3, 2017, 15 kilogrammes (kg) of heroin was found hidden in PIA Boeing 777 in Karachi, he said.

'Drug traffickers possibly using PIA to smuggle narcotics'

Malik said reportedly 11 kg of brown sugar was recovered at Heathrow Airport on May 15, 2017 in the second instance.

In the third case, 14.7 kg of heroin was recovered on May 22, 2017 from yet another Boeing 777 at Benazir Bhutto International Airport, he said.

The fourth incident occurred on May 31, 2017 where 2.4 kg of heroin was found in another Boeing 777 aircraft at Karachi Airport, Malik added.

ANF nail dealer pushing drugs on campus

The ANF DG said while investigations into the first incident were still in progress, another such incident at Heathrow Airport tarnished the image of the national flag carrier.

According to details of persons arrested from Karachi on Friday, a high-ranking person in the drug trafficking organisation and an ex-PIA baggage employee Akbar alias Badshah had been arrested.

He acted as the chief coordinator and recruited individuals at Karachi Airport, handed over drug packages and disbursed facilitation charges/commission to the team members.

Karachi and Sukkur are Sindh's hub of narcotics: ANF

Saleem Natiq, an accomplice of Badshah, recruited a PIA Cleaner Pervaiz Masih and made him an accomplice of PIA Driver Shahid. They both (Masih and Shahid) worked for a notorious drug smuggler Shahida who was arrested in Nepal a few years ago, while the rest of her group had dissolved.

In the current setting, Badshah instigated Masih to enter drug trafficking and made him a vital member of the drug trafficking organisation.

Masih recruited other members in the network to transport drugs inside the airport and plant them in planes, the ANF DG stated.

9,885kg of heroin, 1,440kg of hashish seized from educational institutions since 2016: ANF

One of the most important recruited members was a PIA Traffic Supervisor Pervaiz Alam. Alam used to get drugs from Badshah and take them to a predetermined location inside the airport, said Malik.

Alam's job was to hand over the drugs to PIA's shuttle operators Shujat Hussain and Muhammad Saqib. They would then put drugs in their lockers/safe place and on a suitable occasion, in coordination with Masih, any one of them would take the drugs into the plane, he said.

After that any one of PIA's sanitary workers Iqbal Masih, Maqbool Masih or Gopi Darshan, in collaboration with others under the watch of Husain/Saqib, would place the packages in the designated space of the plane, he added.

Narcotics on campus: ANF nabs suspected drug peddler

Waseem Fareedi, Syed Ghulam Yazdani and Imran Baig were other persons who had been arrested from Karachi in the case, he claimed.

From Lahore, Saleem Natiq, Saleem Khan and Syed Anwer Shah were arrested, Malik added.

During the course of investigation, different airport departments/stakeholders were approached, which included PIA, Civil Aviation Authority, Airport Security Force and other airport service providers. More than 100 staff members were interviewed or interrogated and thorough scanning of all available data was evaluated, the ANF DG told reporters.

PK-785: ANF recovers 20 kg of heroin from PIA's London-bound flight

Earlier during the day, the interior minister was informed that most of the accused in the PIA drugs smuggling case had been arrested.

Malik had called on Nisar and briefed him on the progress made in the case.

Nisar had ordered the authorities to carry out an in-depth investigation into the case and reach the conclusion at the earliest.

The minister directed the ANF DG to approach the foreign countries concerned so as to nab the international mafia involved in the drugs smuggling racket. He also directed him to make progress in the investigations public in a news conference.