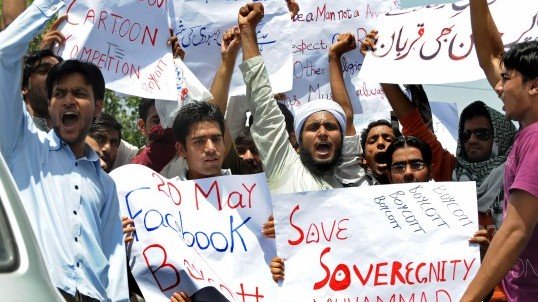 ---
KARACHI: Pakistan Telecommunication Authority (PTA) has blocked Facebook across Pakistan following directions issued by the Lahore High Court.

Zonal Directors have instructed all ISPs in their respective areas to immediately block the website at the URL level and to continuously monitor the same to ensure compliance with the instructions of the authority.

Earlier in the day, the PTA blocked the controversial link on Facebook following the orders of the Lahore High Court (LHC) on Wednesday.

The Lahore High Court had ordered the Telecom ministry to ban the social networking website following the Prophet Muhammad (PBUH) caricatures controversy.

The PTA has issued a circular in this regard which states that the link is blocked with immediate effect, however, sources confirm Facebook is still accessible via Facebook proxies.

Blackberry services shut down in Pakistan:

Cellular companies in Pakistan have put a halt on Blackberry services till further notice in line with PTA's directives for blocking Facebook in Pakistan. Facebook had been accessible on Blackberry handsets long after PTA had blocked Facebook in Pakistan as these services are routed through RIM servers. Cellular companies therefore put a cap on Blackberry services till further notice. All cellular companies informed their customers through SMS about the development.

Report blasphemous caricatures:

Ministry of IT has also directed the PTA to remain alert and watchful and block all links displaying profane caricatures immediately.

Ministry of IT has requested the public at large to contact a dedicated Telephone No 0800-5505 and e-mail address: [email protected] , to transmit necessary information, should anything to the effect of objectionable caricature get displayed/propagated at any website.

Swedish Embassy in Pakistan closed for indefinite period:

The Swedish Embassy in Pakistan has been closed for an indefinite period of time over the holding of a competition on blasphemous caricatures of Prophet Mohammed (PBUH) on Facebook, Online adds.

The diplomatic sources said that the Swedish Embassy has been closed since last week.

The sources in Foreign Office told Online that they were informed before closing of the embassy however it has not been mentioned that when it would be reopened.

For a detailed report on the controversy, click here.

For pictures of anti-Facebook protests, click here.

COMMENTS (80)
Comments are moderated and generally will be posted if they are on-topic and not abusive.
For more information, please see our Comments FAQ