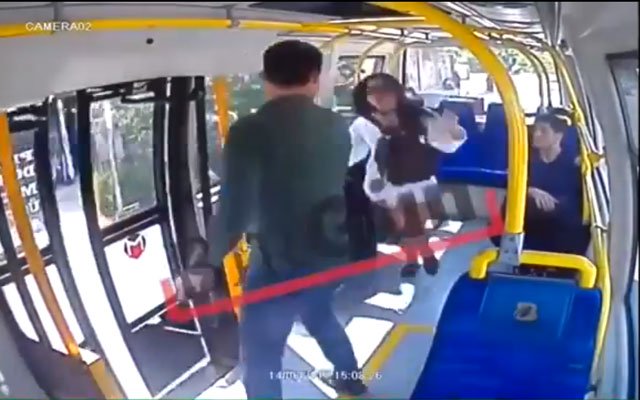 ---
ISTANBUL: A Turkish man assaulted a young woman on an Istanbul bus for wearing shorts during Ramazan, images showed Wednesday.

University student Asena Melisa Saglam was travelling on the bus on June 14 when the man seated behind her struck her in the face.

She responded by chasing after him but he grabbed her and slung her to the back of the bus before running out of the vehicle.


İstanbul Pendik'te şort giydiği için 21 yaşındaki Asena Melisa Sağlam'ı minibüste darp eden saldırganın görüntüleri ortaya çıktı. pic.twitter.com/7rn7BWDVlK

— Haberler (@Haberler) June 21, 2017


Saglam said that throughout the journey the man had been verbally harassing her by saying she should not be wearing shorts during Ramazan.

The man was detained shortly afterwards but following questioning - in which he reportedly said he had been "provoked" - he was set free, causing a new outcry.

"The release of the attacker is a threat to all women," the women's rights organisation We Will Stop Femicide Platform wrote on Twitter. "We will wear whatever we want outside. We will not give up our freedoms."

Following the outcry, an order was given to re-arrest the man. It later emerged that he had been held in jail since Sunday on separate accusations of committing a tax crime and is also wanted for drugs offences.

Turkey says liberal German mosque 'incompatible' with Islam

Saglam, 21, was quoted by the Hurriyet daily as saying: "From the moment I sat down he was making these remarks 'you dress like this during Ramazan? You should feel ashamed to be dressed like that'."

She said she put on her headphones and ignored him but then he got up, hitting her so the side of her jaw hit the bus window.

A man named Abdullah Cakiroglu who kicked a Turkish woman who was wearing shorts last year in a similar case is currently on trial and faces nine years in jail if convicted.
COMMENTS (17)
Comments are moderated and generally will be posted if they are on-topic and not abusive.
For more information, please see our Comments FAQ