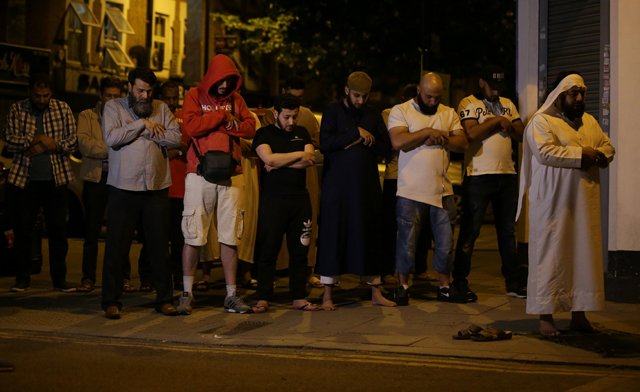 ---
Worshippers leaving a London mosque just after midnight on Monday were helping an unwell elderly man when a van deliberately targeted them, eyewitnesses said, driven by an attacker who shouted: "I want to kill all Muslims".

The van swerved towards the people outside the Finsbury Park Mosque in north London just as they began to assist the man, who had collapsed. "He turned left into the alleyway, and he just drove at people," eyewitness Abdiqadir Warra told AFP.

"Some of them he took a few metres. A man was inside in the van, I saw with my eye, and the old man was also on the ground, and I see some people were also injured. Some of them were very bad."
Locals then pounced on the driver and pinned him down while waiting for the police to arrive.

Van rams worshippers leaving London mosque, killing at least one

"The man, he tried to escape... but they caught the driver," Warra said. Eyewitness Khalid Amin told BBC television that the van turned deliberately left and "just hit the people". One man was trapped under the van and people tried to lift up the vehicle to free him.

Amin said that when people seized the driver, "he was shouting: 'All Muslims, I want to kill all Muslims.' Literally, he said that. Word by word." Police said that one man had been arrested at the scene and that no further suspects had been identified.

Another eyewitness, who gave his name as Athman, told AFP: "People were screaming: 'It's a terrorist attack, it's an attack, this guy attacked us', and I had to run back and tried to save people who were still alive and giving water, helping the police." While he was in the police van he was waving for victory, he was very happy.

"He chose the time and he chose the place and he chose his target. So, it's the holy month of Ramazan. "The time, he was planning for it, the target, he was planning for it, and the place - outside a mosque." Mohammed Kozbar, chairman of the Finsbury Park Mosque, called for Prime Minister Theresa May's government to take action.

London attack: Woman's act of restraining terrorists 'saves 20 lives'

The incident came after two terror attacks in London in the past three months involving vehicles ploughing into crowds of people, as well as the suicide bombing attack at a Manchester pop concert in May. "People now have a big question about safety in London after all these terrorist attacks, and we want to assure them that they are safe, and that's why we want to work with the police," Kozbar said.

"People feel unsafe because after the terrorist attacks of London, Manchester, the increase of Islamophobia and hate crimes," he added. "This is very worrying to the Muslim community." Several bunches of flowers had been deposited outside the mosque as commuters went to work on Monday morning.

An imam had allegedly been trying to rescue the suspect from the "angry worshippers" and ensured that he was not harmed. Toufik Kacimi, chief executive of the Muslim Welfare House, told Sky News: "People grabbed him outside and started hitting him. "Our imam, Mohammed Mahmoud, went there and saved him. He saved his life basically. "The imam of the mosque saved the life of the attacker," reported Huffington Post.


"Imam saved #Finsbury Park attacker's life from angry worshippers & detained him until he was arrested by police", the centre's CEO tells me

— Ashish Joshi (@ashishskynews) June 19, 2017
Look at how merciful these brothers are. Didn't apply an ounce of force, more than what was required to restrain the TERRORIST. https://t.co/cunuzHqnKA

— Ibrahim (@ibbydassantos) June 19, 2017


The 48-year-old was later arrested on suspicion and attempted murder. "One thing that is clear. This happened after night prayer that us Muslims pray during Ramazan. It was clearly an act that was planned and an act that was done with full intention," a local resident told Huffington Post.

After London attack, Facebook says aims to be 'hostile environment' for terrorists

The chairman of the mosque, Mohammed Kozbar, described the incident as a "cowardly attack" and said there were many injuries.

https://twitter.com/KozbarM/status/876598182444183555

Reports also state that the one casualty from the incident was perhaps not caused by the attack. People present on the site there stated that the man was receiving first aid and medical help before the attack, and so the cause of his death has not been determined yet.
COMMENTS
Comments are moderated and generally will be posted if they are on-topic and not abusive.
For more information, please see our Comments FAQ