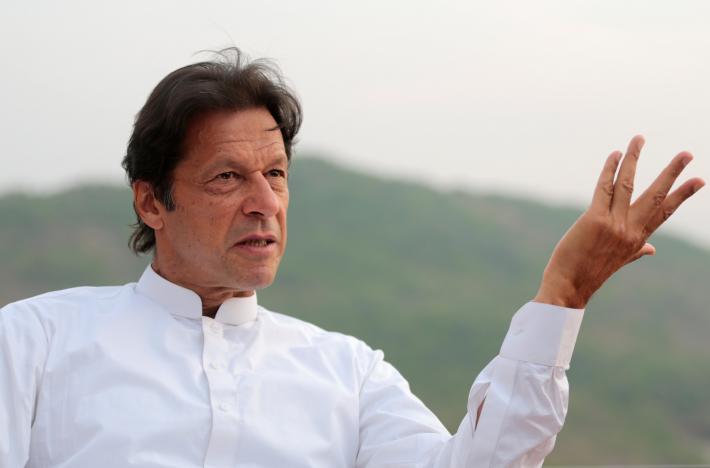 ---
ISLAMABAD: The Pakistan Tehreek-e-Insaf (PTI) has announced a boycott of the Jang-Geo media group, accusing it of "biased, one-sided coverage of the ongoing investigations into Panamagate case".

The party's media strategy committee also decided to withdraw its representation from all forums run by the group. The decision was taken at a meeting of the committee chaired by Chairman Imran Khan at his residence in Bani Gala on Saturday.

Later, Imran told a news conference that the Jang-Geo group was misleading the public with its 'biased coverage' of the case.

He called Mir Shakil-ur-Rehman, the owner of Jang-Geo Group, 'godfather of media' who, he alleged, was trying to hide the financial corruption of the Sharif family. In return, the PML-N regime had doled out advertisements worth billions of rupees to the Jang-Geo group, he further alleged.

"Now, even an ordinary citizen can tell that the Jang-Geo group is lying to the nation and distorting facts. Portraying Nawaz Sharif as a 'beau ideal' political figure is a crying shame," he said.

PM and I upheld law by appearing before JIT: Shehbaz Sharif

The PTI chairman said Mir Shakil was projecting himself as the king-maker. "It's your responsibility to expose corruption and corrupt rulers, but you're busy telling false and fabricated stories in favour of the Sharif family," he said.

He clarified that he was not against the journalists associated with the group but was opposed to the biased policy which had been imposed on them by group owner.

"He [Mir Shakil] says do corruption in Pakistan and I will support you. Your duty is to expose corrupt not to protect and support them," he said addressing the Jang-Geo group owner.

Returning the favours of the media group, both the federal and Punjab governments had given out billion of rupees worth of ads to Jang-Geo, he alleged. "The government should tell the nation which media group has received the lion's share in government ads."

Government ads serve as an umbilical cord for the media, and Imran said he was not opposed to it but he added that "giving ads as a bribe is wrong". He added, "It's a crime to get ads by supporting corruption."

Panamagate: Imran asks Nawaz to step down

Later, in a series of tweet, Imran said, "Godfather of media, MSR [Mir Shakilur Rehman], has taken it upon himself, after generous gifts of government ads to protect the corruption of godfather Sharif."

"It is unethical and immoral for a media house to protect the corrupt, the money launderers, asset concealment and tax evaders. Simply unacceptable," he tweeted.
COMMENTS (13)
Comments are moderated and generally will be posted if they are on-topic and not abusive.
For more information, please see our Comments FAQ