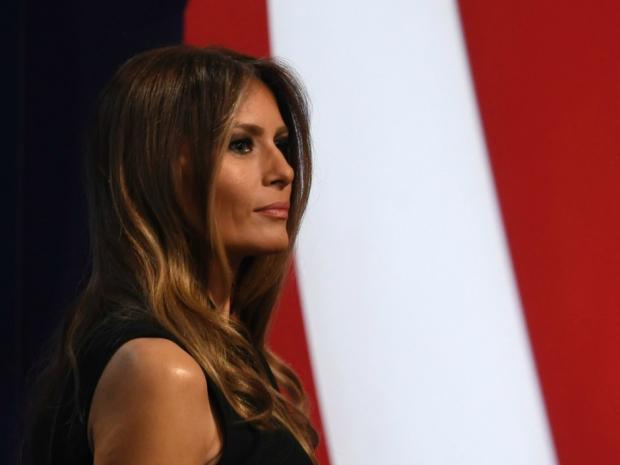 ---
After many viral and bizarre moments in Saudi Arabia during his first foreign tour, Donald Trump landed in Tel Aviv, Israel. In Israel, Trump and his wife Melania were welcomed by Israeli PM Benjamin Netanyahu and his wife after they disembarked from Air Force One.

Melania Trump's new portrait divides public opinion

As they walked on the tarmac, another viral moment was created for the internet to obsess over. The US president who was walking half a step in front of his wife, reached out behind to hold Melania's hand. However, in a moment captured by cameras from different angles, Melania seems to brush his hand away from hers, not letting him hold her hand.


People seemed to love Melania's actions..


Elite level shade by Melania... https://t.co/OgYjGEPPDh

— Uche Amako (@UcheAmako) May 22, 2017
We are all Melania. https://t.co/rGWSPrhvXc

— Matt McDermott (@mattmfm) May 22, 2017
Melania DGAF. Melania is all of America right now. https://t.co/QS9sf15ZFt

— SusannaDW (@SusannaDW) May 22, 2017


Melania has been a source of discussion during her husband's first trip as president. She came under scrutiny when she chose to forego the headscarf while in Saudi Arabia, something her husband had criticised previous First Lady Michelle Obama for doing.

Melania who has chosen to live in New York with son Barron rather than join her husband in the White House has been a topic of scrutiny during Trump's time in office, with many questioning the relationship between the president and the first lady.

Melania Trump makes case for women's 'empowerment'

The discussion has not always been negative, though. Previously, Melania was applauded when she seemed to remind her husband to place his hand on his heart during the US national anthem.


COMMENTS (6)
Comments are moderated and generally will be posted if they are on-topic and not abusive.
For more information, please see our Comments FAQ