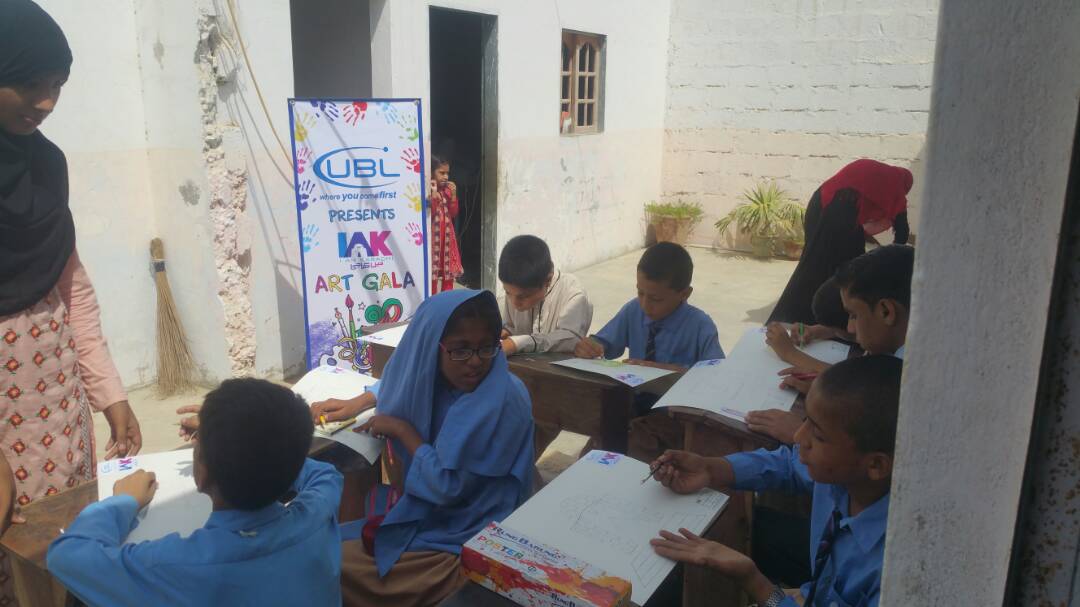 ---
KARACHI: We want the children of Karachi to take ownership of their city. They are our primary focus.

'I Am Karachi' Executive Director Ambareen Kazim Main Thompson said this while speaking on the launch of the third phase of 'I Am Karachi' project, titled 'Walls of Peace', which aims to reclaim the city's walls through art.

The painting of as many as 400 walls is being targeted under the third phase, which started May 3 on World Press Freedom Day.

Karachi to witness another revamp in March

"Our main aim is to wipe out hatred," said Thompson, adding that the two-pronged approach being taken by 'I Am Karachi' is to address and attack the social issues of Karachi.

Thompson wants these walls to be protected. "[The walls] will depict the vision and aspirations of the young citizens of Karachi and their dream of a peaceful, inclusive city," she said. "We would like these walls, which are art pieces, to be given recognition and protection as the modern heritage of Karachi." Thompson added the walls painted under the project show the softer side of the metropolis.

The artwork will be more fun this time as there are plans to incorporate 3D images and tiles on the walls, Thompson said.

Artist restores defaced murals on Karachi Press Club walls

Meanwhile, Thompson is on the lookout for a sponsor to further sustain the 'Walls of Peace' project.

The third phase ends in November.

Art gala

More than 19,000 children from government organisations, trusts and streets schools of the city participated at the three-day 'Art Gala' organised this month by 'I Am Karachi' as part of the project's third phase.

"We gave the children of Karachi the idea to paint around two themes: 'Tolerance, Diversity, Hope and Pride' and 'What Karachi means to you?'," Thompson shared. "Differently-abled children also participated in the gala, contributing some of the best art pieces."

Painting a tribute: Wall of Fame for MisYou

Another art gala will be held after Ramazan in August where as many as 30,000 children are expected to participate.

Two bridges to get a makeover

Thompson delved into the idea of taking ownership of two bridges in Karachi, the Lily Bridge, which connects Cantt Station to Police Lines and another bridge near the crossing area of New Korangi Bridge. The two bridges will be painted by the children of Karachi. The latter will be painted by the children of Aman Foundation.

Making way for ambulances

Many cars on Karachi's streets shy away from giving way to ambulances that are taking a sick person to the hospital, Thompson chided.

CAA tears down mural in Karachi to build canteen

"We plan to have messages on walls, which we are terming as International Red Cross messages, to allow people to value a human life and make space for ambulances," she said. This falls under the mandate of 'I Am Karachi's' slogan of 'Educate, Reform and Remind'.

Encouraging recycling

The 'I Am Karachi' team has also taken over a building near the National Museum of Pakistan under the Heidelberg Project in which the exterior of the structure is expected to be made in a work of public art. "Entirely to be created by art students, schools and communities, the art work will [be] made with use of recycled material," Thompson shared.

Art classes at Pakistan Chowk

Public spaces will turn into an art class for the youth under this phase, according to Thompson.

Pakistan Chowk has been a dungeon for drug addicts for the past many decades but the place has recently been swiftly remodelled by architect Marvi Mazhar and her team.

Pakistan chowk: Vandals deface plaques honouring city heroes 

Thompson hoped youngsters will get to learn a lot from the renowned art teachers of the city by having art classes at Pakistan Chowk, for which she is in talks with Mazhar.

"We want to hold art classes, mushairas and many more of such events at Pakistan Chowk, which would be open to the public," she said.