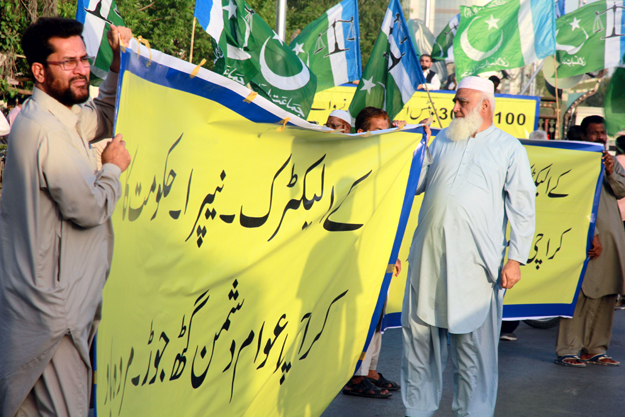 ---
KARACHI: A few weeks after calling a halt to its series of protests against overbilling and increased electricity tariffs, Jamaat-e-Islami (JI) has announced it will hold another sit-in against K-Electric (K-E) as the 15-day deadline to accept their demands has lapsed.

JI will approach the National Accountability Bureau (NAB) against K-E and will make the high court an intervener, announced JI Karachi chief Hafiz Naeemur Rehman.

He was addressing a press conference at Idara Noor-e-Haq, the party's headquarters in Karachi, after the completion of the 15-day period given to K-E by Governor Mohammad Zubair to fulfil JI's demands.

JI to stage fresh sit-ins against K-Electric from April 11 across Karachi

"We will protest against K-E on Sharae Faisal near the Nursery bus stop on Wednesday, May 24, at 5pm," announced Rehman, adding that the protest will be peaceful.

JI had called off the sit-in against K-E outside Governor House, when Zubair had assured the party that he will ensure provision of substantial relief to the people in connection to K-E's policies.

The party will hold a sit-in against the power company on May 24 as the governor failed to keep his word and K-E has increased load-shedding, according to Rehman. He also said that JI would approach NAB against K-E's misdeeds. The JI Karachi chief said that forcing people to face load-shedding while shutting down power generation plants is the worst form of corruption. He accused the utility provider of minting huge sums of money from the people.

Jamaat chief accuses K-Electric of extortion

Rehman said the frequent load-shedding, tripping feeders and power failures were due to the evident incapability of the K-E management. He said the power company was forcing the people to go through prolonged power outages amid rising temperatures, especially at a time when hundreds of thousands of students in the city were appearing for their exams.

In the recent past, thousands of people died due to power outages and a heatwave that engulfed Karachi, said Rehman. To prevent this, JI has not only held a series of sit-ins outside the K-E head office this year but also approached the federal government through the National Electric Power Regulatory Authority and knocked the doors of the judiciary. He said that a case filed by JI against K-E is pending before the country's top court.

Speaking about their future course of action, he said that complaint camps would be set up outside various K-E integrated business centres in order to provide relief to affected people. He added that camps would also be set up across the city on May 22 and May 23. Meanwhile, a one-million petition campaign would also be initiated, he said.

The JI leader also said the administration and government will be held responsible if the scheduled sit-in is interrupted or sabotaged. The party has been protesting against K-E since March.