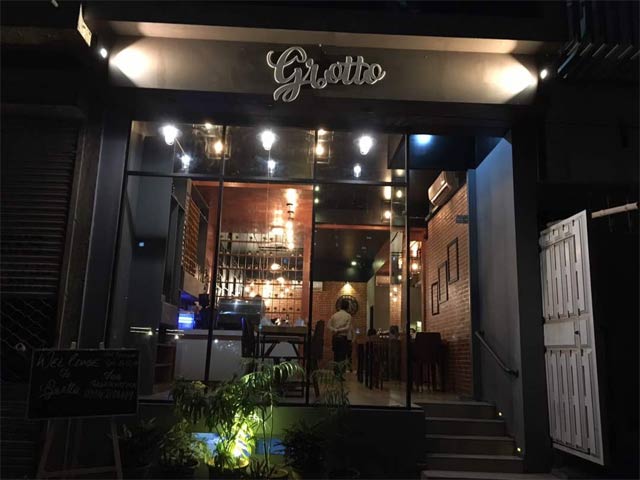 ---
Anybody who tells you Karachi does not have a variety of restaurants, doesn't really know the city. The metropolis has opened its doors to a new eatery and here's what we think of it.

With American and European style interior, Grotto cafe not only has an extensive menu, but the management also pays close attention to customer satisfaction. The staff is courteous and knows the menu well enough to help customers pick their order.

Located at Bukhari Commercial in Karachi's DHA, Grotto's interior is contemporary and stylish, while the colour palette is simple but elegant making the atmosphere warm and welcoming.

7 best burgers in Karachi

Upon being seated, we were presented mint lemonade shots as welcome drinks which, in this heat and after a long day of work, were perfect to set our moods for the dinner.




From their list of appetisers, we tried the Thai prawn cakes, grilled calamari and the spinach and artichoke dip.




The Thai prawn cakes were deep fried, and while they didn't look as appealing as the other appetisers and were quite dry from the inside, once eaten with the sauces, the spices were just right, making the cakes taste reasonably good.




The spinach and artichoke dip was one of the most appetising dishes of the night. The dip was creamy, with the flavour of spinach and artichoke coming through with just the right amount of cheese. Served with toasted baguettes, this was the dish we couldn't take our hands off.

Our third appetiser was the grilled calamari. Slightly sceptical of our choice of grilled calamari over the fried one, we were pleasantly surprised and not at all disappointed. Served with sweet chili sauce, the calamari was soft and flavoursome. Not to forget, the presentation was beautiful.




Our favourite among the mains was the Thai chicken with cashew nuts. Served with garlic rice, the dish was sweet, spicy and perfectly rounded; from the crunch of the cashew nuts to the sweet peppers, it was perfect.




We also tried the garlic pasta, the grilled Atlantic red snapper and Moroccan chicken in gravy out of which the Moroccan chicken was perhaps the only dish worth writing home about. While the dish was not the most authentic version of itself, it had a mild but pleasant flavour.




Among the former two, the grilled Atlantic red snapper failed to deliver. The dish had far too many confused components and didn't even look very appetising. On the other hand, the garlic pasta looked great but lacked flavour. The fettucine was far too dry and could definitely have used some more sauce.

All in all, as any other newbie to the stock of eateries in the city, Grotto too had some hits and misses. Some flavours, however, are well worth a try.
COMMENTS (2)
Comments are moderated and generally will be posted if they are on-topic and not abusive.
For more information, please see our Comments FAQ