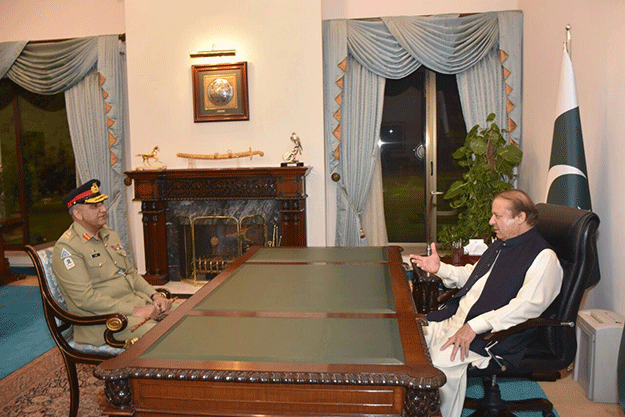 ---
The Pakistan Electronic Media Regulatory Authority (Pemra) has warned all TV channels against airing unverified and unconfirmed news or comments about the civil-military relations.

The authority, in a statement issued on Friday, asked all news and current affairs TV channels, its employees, panellists and anchorpersons to refrain from presenting any unconfirmed news or analysis related to the Pakistan Army's relations with the civilian government without confirmation from the organisation concerned.

The press release said any content through which the military was accused of something, damaging its image, or if it incite anyone to take unconstitutional actions would be deemed as violating the latest guidelines and liable to action.

Dawn Leaks controversy: Army recants 'rejection' tweet

"Anyone found violating these instructions will be charged under Section 27 of the Pemra Ordinance 2002," it said.

Pemra said it was receiving several complaints through its complaint and call centres, Twitter and Facebook accounts and website that some TV channels and their analysts and anchorpersons were busy in a kind of propaganda campaign that the civil-military relations were tense and running exaggerated stories and analyses quoting unknown sources.

"This irresponsible attitude is not only against the national interest and security, but also damaging Pakistan's goodwill at the international level. Such nonprofessional discussion is also being used to paint Pakistan as a non-serious and failed state where the constitution and law have no value."

Dawn Leaks: Army's misgivings taken care of, says Nisar

The press release said creating a gulf between people and the army was the agenda of the enemy who did not like to see Pakistan made progress.

Pemra said: "It is a matter of extreme concern and an effort to spoil the sacrifices offered by the army and the nation [in the war against terrorism]."

It said such mischievous comments and analysis were clearly against the spirit of the National Action Plan, Operation Zarb-e-Azb and Operation Raddul Fassad and in violation of the Code of Ethics for Electronic Media 2015 clauses (B)(1)3 and (j)(1)3 under which levelling blames against the judiciary or armed forces was prohibited.

Pemra said it had issued instructions to PAKSAT and all major cable operators to ensure implementation of the Pemra orders.