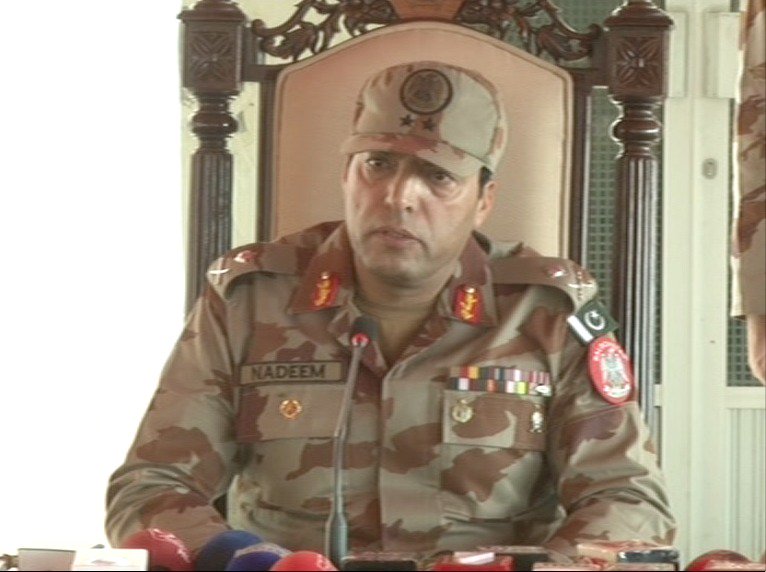 ---
Inspector General Frontier Corps (FC) Major General Nadeem Ahmed has said Afghan forces targeted civilian population while Pakistan targeted their check-posts, inflicting heavy casualties.

At least 10 people including an FC personnel and women, children were killed and 47 others injured when Afghan forces targeted troops guarding a census team in Chaman on Friday.

"Afghan forces entered Pakistan and occupied houses to take position and launch an attack," the IG FC told a news conference Sunday afternoon.

"Pakistani forces, on the other hand, targeted Afghan security check-posts, killing 50 people and injuring 100," Ahmed added. "The forces targeted civilians and used children as human shields."

"Nevertheless, we did not feel jubilant at the losses inflicted on the other side as Afghans are our brothers."

Pakistan will respond instantly, effectively to border violations: Khawaja Asif

Subsequently, the Afghan side contacted Pakistan requesting ceasefire, which was accorded and welcomed, he said. "A flag meeting on the local level was also held."

"The entire responsibility of the incident, Ahmed added, lies with the Afghan forces," the IG said and added that any such aggression in future will result in a twofold and similar reaction. Ahmed went on to add that the incident was a result of Afghan-India collusion.

Ahmed said Pakistan was targeted despite that the Afghan side was well informed of the ongoing census activity.

"We want to make it clear that Pakistan's international border is non-negotiable and no compromise will be made on it."

The attack caused the border to be closed again indefinitely while a curfew was imposed in Torkham bazaar as a preemptive measure.

On Saturday, Defence Minister Khawaja Asif reiterated the stance for promoting mutual cooperation with Afghanistan to eliminate terrorism, but made it clear Pakistan would respond instantly and effectively in a befitting way to border violations.