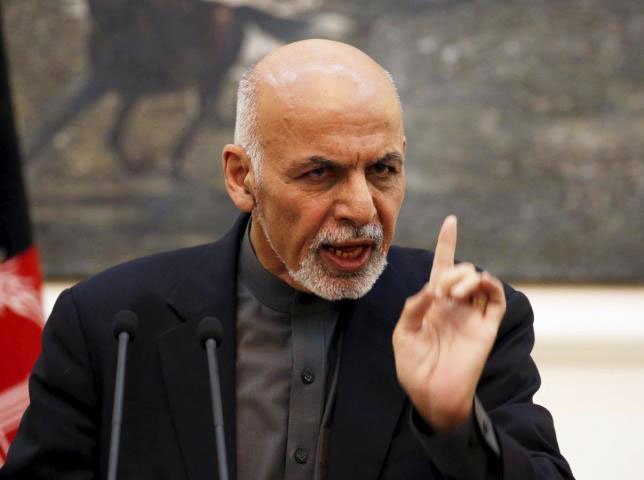 ---
Afghan President Ashraf Ghani has turned down Pakistan's invitation to visit the country.

During an interview with BBC, the president's deputy spokesperson Dawa Khan Mina Pal said Ghani was invited by Director General Inter-Services Intelligence (ISI) Lt Gen Naveed Mukhtar and parliamentarians to visit the country.

DG ISI quietly visits Kabul to discuss intelligence-related issues

"I will not go to Pakistan until the perpetrators behind the attacks on Mazar-e-Sharif, the American University in Kabul and Kandahar, are handed over to Afghanistan," the deputy spokesperson quoted Ghani as saying. He further said the Afghan president has also demanded action against Afghan Taliban present on Pakistan's soil.

There has been no confirmation about Ghani's refusal from Pakistan's side thus far.

The statement came a day after Lt Gen Mukhtar quietly visited Kabul as part of efforts by the two estranged neighbours to reset their ties particularly in the field of intelligence cooperation.

There was no official confirmation from either side about the visit, as well as his engagements in Kabul. Afghanistan's Tolo news reported that the ISI chief was in Kabul to improve bilateral military and intelligence cooperation.

NA Speaker in Afghanistan: Kabul urged to work with Islamabad

The ISI chief's trip came on the heels of a high-level Pakistan Army delegation led by Chief of General Staff (CGS) Lt Gen Bilal Akbar visited Kabul.

Afghan authorities were conveyed that Pakistan Army had control in all areas on Pakistan side of the border and shall not allow its soil to be used against Afghanistan.

"Terrorists are common threat and shall be defeated," the official statement quoted Gen Bilal as saying.

The flurry of visits by senior military and intelligence officials were part of efforts by the two sides to defuse their months old tensions primarily due to serious differences on fighting the militant groups. Both sides accused the other for hands-off approach to certain militant outfits. Afghanistan has long held the view that Pakistan is still harboring Afghan Taliban on its soil, a charge strongly rebutted by Islamabad.

This article originally appeared on BBC Urdu.
COMMENTS (6)
Comments are moderated and generally will be posted if they are on-topic and not abusive.
For more information, please see our Comments FAQ