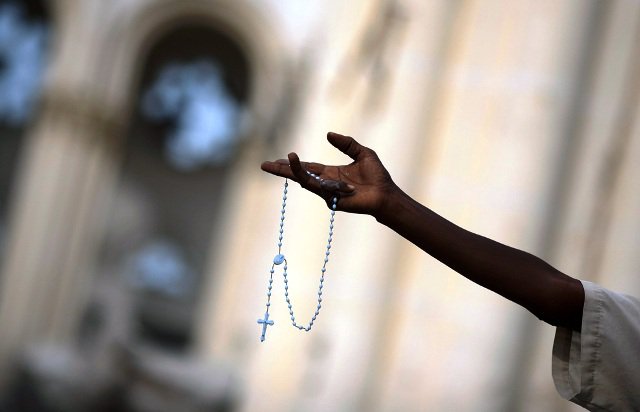 ---
LAHORE: Reports suggest that there is a hospital administration in the city that forces its non-Muslim staffers to either recite verses from the Holy Quran at morning assembly or be marked absent for the day.

The Mian Mir Hospital, run by the City District Government Lahore, was named after Sufi saint Hazrat Mian Mir who rose to prominence during the time of Mughal emperor Jehangir. The saint himself was a big proponent of interfaith harmony.

Moral, national obligation to protect rights of minorities: PM

The matter came to light when Mian Mir Hospital Medical Superintendent Dr Muhammad Sarfraz allegedly slapped a Christian paramedical staffer for not attending the assembly. Following the incident, all paramedical staff protested against the MS and other hospital administration by shutting down all functions of the medical facility.  "This act of the MS is a violation of the Constitution of Pakistan," commented a Christian paramedical staffer named Marshal.




Talking to the media, he asked religious scholars to sort out the issue as the administration of the hospital was pressurising them to leave their jobs."

Another paramedical staff member of the medical facility, Fahad Ahmed, said both Muslims and Christians were working in harmony. "It is professional workplace; I don't know why the administration is forcing our Christian brothers to do this. This is totally unacceptable."

Center for Social Justice Chairman Peter Jacob told The Express Tribune that religious freedom is guaranteed to all under Article 20 of the Constitution of Pakistan. "This act goes against the constitution and should be dealt with accordingly," he commented.

Celebrating Easter: Amid fears, Christians prefer indoor festivities

A paramedical staffer also agreed with this notion. He urged authorities to thoroughly investigate the matter and "question the MS over the incident".   Despite several attempts and text messages, MS Mian Mir Hospital Dr Muhammad Sarfraz was unavailable for comment.

However, CDGL Health CEO Dr Muhammad Saeed assured a high-level committee had been formed to look into the matter and a strict departmental inquiry would be initiated against anyone found guilty.

Experts said extremism was creeping into public hospitals and was a massive concern for law enforcement agencies. A senior law enforcement official, requesting anonymity, said the phenomena of extremism among doctors and other paramedical staff was nothing new. He urged the health department to frame a code of conduct to avoid any such incident in future. "The issue of Mian Mir hospital is just a small manifestation and also serves as an alarm bell," he concluded.

Published in The Express Tribune, May 3rd, 2017.
COMMENTS (6)
Comments are moderated and generally will be posted if they are on-topic and not abusive.
For more information, please see our Comments FAQ