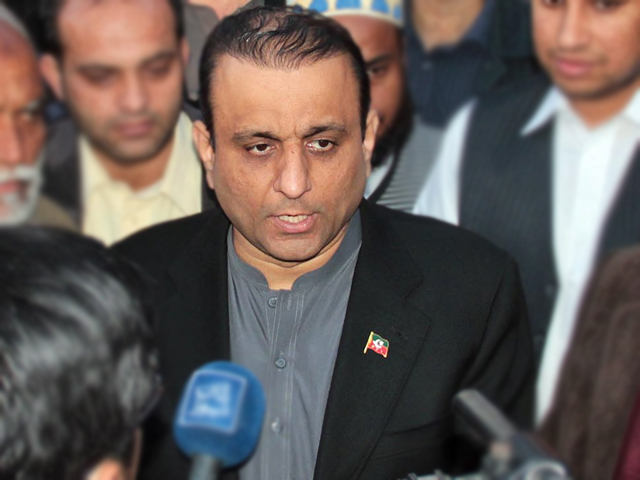 ---
LAHORE: Pakistan Tehreek-e-Insaf (PTI) has gotten under the skin of Prime Minister Nawaz Sharif and his cabinet members have kick-started an PML-N has stated an unannounced election campaign across the country.

This was stated by PTI Punjab Central President Abdul Aleem Khan as he addressed party workers on Tuesday.

He said the rulers were making false claims and shouting hollow slogans about the inauguration of under-construction projects. "People are aware of the facts," he asserted.

"Farmers, labourers and common people are still facing prolonged power outages, unemployment and poor law and order conditions," Aleem said.

He pointed out that the rulers had failed to provide basic necessities such as potable water, health and education facilities to the masses.

PPP-PTI unity sets off alarm bells for PML-N

He underscored that instead of indulging in self-praise, the PM should present his performance report of the past four years.

Aleem said the Sharifs were comparing their public gatherings with PTI Chairman Imran Khan's mega shows in which people participated of their free will.

"It sounds strange," he said, "whenever Nawaz League rulers are in trouble, India creates unrest on the borders and the rulers stay mum here.

They have personal and business interests in India which is why they have a soft corner for the neighbouring country. This is not acceptable to the citizens of Pakistan."

He also asked rulers to announce a clear policy on Kashmir and stop the propaganda against the Pakistan Army.

Corruption in wheat procurement

Meanwhile, PTI MPA Shoaib Siddiqui said his party has submitted a resolution in the Punjab Assembly over the corruption and mismanagement in the ongoing wheat procurement drive.

He pointed out in the resolution that the provincial government had made poor arrangements at procurement centres. "Farmers were facing great difficulty in selling their stocks to the government."

In his resolution, Shoaib indicated that government officials were imposing penalties of 1.5 and 2.5 kilogrammes on the 50 and 100 kilogrammes wheat bags, respectively, which farmers strongly protested.

Tussle between PTI, PML-N over graft allegations in Peshawar

"Instead of issuing gunny bags to small farmers, the government issued empty wheat bags to middle-men and influential farmers," he remarked.

"The unjust wheat procurement policy of the provincial government has forced small farmers to send their produce at throwaway prices to middlemen and profiteers."

Shoaib was of the view that the government had anti-farmer and anti-agriculture policies. "Punjab is an agricultural province, but its farmers are facing serious hardships.

PTI will not leave farmers alone in these trying times and will raise a voice for their rights on every plaform," he said.

Published in The Express Tribune, May 3rd, 2017.