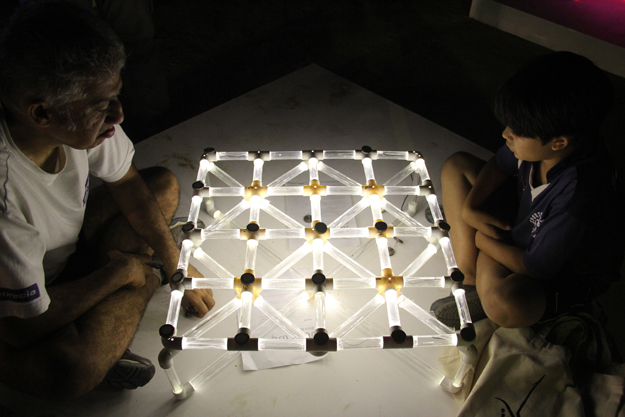 ---
KARACHI: Chalatay raho chalatay raho, humein yeh poori video dekhni hai [Keep riding, keep riding, we need to see the whole video] chanted onlookers, encouraging the young bicyclist.

Ahmed Ali, a street child, pedalled furiously but the goal for was not him moving forward. Ahmed and the onlookers were able to take a virtual tour of the old city area, once a heritage wonder in Karachi, on a screen set up in front of the bicycle in a project titled 'Bicycle Ride Around Burnes Garden'.

Books and literature: Lyallpur literary festival begins at GCUF

Exhibitions and activities related to tradition, culture, science and technology came alive when the DIY City, Karachi – Manchester Nano Festival opened on Sunday evening in Rambagh Quarter.  Organised by Numaish- Karachi and MadLab, in collaboration with the British Council Pakistan, Habib University and Karachi Metropolitan Corporation, the event was held at the Sobhraj Chetumal Terrace (Purdah Bagh), behind the National Museum of Pakistan.




In another very basic but useful activity, seven-year-old Ivan Ahmed Ali and others gathered around the stall were taught how to light an LED using a battery by trainer Zaheer Abbas. Ivan helpfully suggested connecting the larger section of the LED with the positive end of the battery and the smaller one with the negative side to complete the circuit, which eventually lit the LED.

"Although it's a very primary activity, but through it and activities like it we can learn how to make complex things," explained Abbas while tutoring those interested in learning how to make a small electronic gadget using simple techniques.




Another interesting project was the 'Saya [shade]: Tag- a-Tree Project'. Noor Zafar and Summaiya Zaidi, from the Public Interest Law Association of Pakistan, while explaining the features of their project remarked that it is about documenting and preserving environmental heritage.

"It's only when it has been hacked away for private interest that we notice its absence. Indeed, Karachi's green cover has shrunk to an alarming 3%," Zafar told The Express Tribune.

Festival Of Ideas: Building a better world of tomorrow   

Another interesting and eye-catching project was the 'Sheesh Mahal – the Palace of Mirrors' by students of Habib University. One of the project creators, Saadia Pathan, said that she and her team tried to build a miniature Sheesh Mahal in hopes of transporting visitors to a similar place of ecstatic wonder, allowing them to experience the blinking lights inside a spinning model for hypnotic effect.




"We wanted to put a spin on this historic palatial beauty using the old animation technology of a zoetrope to build a miniature of the engineering and imagination wonder that Mughal Emperor Shah Jehan built for his wife Mumtaz," explained Pathan.

"These kinds of cultural and extracurricular activities ultimately become a defence against insanity," said journalist Ghazi Salahuddin.

Rachel Turner from MadLab said that technology is changing so fast and unfortunately we are not keeping up. "You don't need to be expert to get started," she encouraged.




Numaish – Karachi's Saima Zaidi said that this type of cross-border experiment aims to bring together local expertise and cutting-edge creative technology to re-imagine public spaces. "The aim is to encourage social participation and share civic pride," Zaidi reiterated.