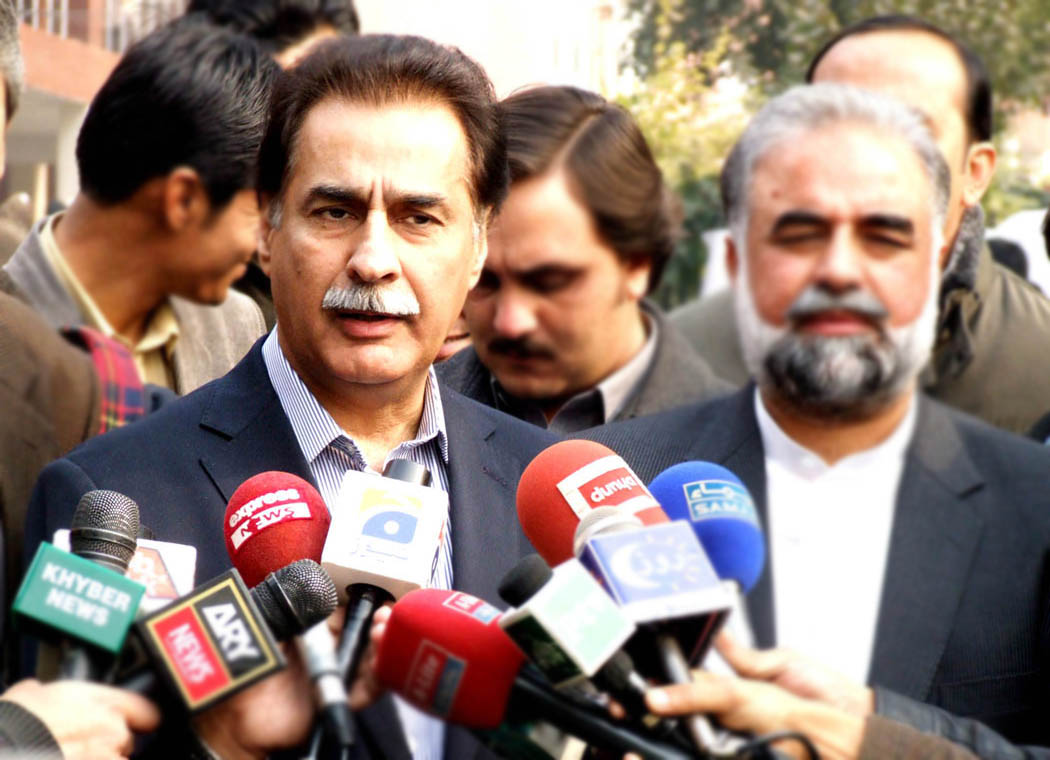 ---
ISLAMABAD: Afghanistan must work together with Pakistan for a bright future and avoid resorting to blame game, Speaker of the National Assembly Sardar Ayaz Sadiq said on Sunday during a meeting with Afghan President Ashraf Ghani in Kabul.

In his remarks, Sardar Ayaz Sadiq told the Afghan president that Pakistan believed in fostering good neighbourly relations on equal footing.

Speaker Ayaz Sadiq is currently on an official visit to Afghanistan on the invitation of the Afghan President in a bid to de-escalate the tensions between the two neighbouring countries.

He is leading an unprecedented 15-member parliamentary delegation of top leaders from both Houses of Pakistan's Parliament.

Afghanistan apprehensions: Terrorism brings Pakistan, China, Russia closer

The parliamentary delegation, includes Leader of the House in the Senate Raja Zafar-ul-Haq, Federal Ministers General (retd) Abdul Qadir Baluch, Mir Hasil Bizenjo and Akram Khan Durrani, Chairman of the NA's Foreign Relations Committee Sardar Awais Ahmed Khan Leghari, Chief of Pashtoonkhwa Milli Awami Party MNA Mehmood Khan Achakzai, Parliamentary Leaders of PPP Syed Naveed Qamar, ANP's Ghulam Ahmed Bilour, PTI's Shafqat Mehmood, Jamat-e-Islami's Sahibzada Tariqullah, Qaumi Watan Party's Aftab Ahmed Khan Sherpao and FATA leader GG Jamal.

"There is no Big Brother between us," assured Speaker Ayaz Sadiq. He said the delegation had come with an open heart to start a new beginning in the bilateral relations of the two countries.

While agreeing with the President Ghani that there was not much time left, the speaker stressed to avoid the blame-game and work together to a mutually beneficial future.  The Speaker shared with the Afghan President about his proposal of hosting a joint Conference of the Speakers of Iran, Pakistan, Afghanistan and China with an aim to seek solutions of the regional problems regionally

In a frank "heart-to-heart" meeting, spanning over five hours, President Ashraf Ghani of Afghanistan told speaker Sardar Ayaz Sadiq here in the Presidential palace of Kabul that time for peace in the region was running short, according to a message received from Kabul.

Pakistani, Afghan security forces renew efforts to overcome differences

President Ashraf Ghani, in his detailed analysis of the Pak-Afghan relations put on table the Afghan grievances and called for a working mechanism to resolve all out-standing differences.

In an academic tone, he talked about the 5th Wave of Terrorism around the world and the impacts of trans-national terrorism on countries like Pakistan and Afghanistan. He warned that if the two states failed to address the challenges now, the consequences could be disastrous for both the countries. He stressed on the co-existence of a stable Pakistan side by side a stable Afghanistan. He acknowledged the contributions of Pakistan during the Afghan Jihad and thanked the people of Pakistan for their generous hospitality of the Afghan refugees.

Ashraf Ghani stressed on a "five principles" approach, comprising a prime focus on the state-to-state relations instead of seeking peace with individual groups, honouring each other's sovereignty; ensuring no use of each-other's territory against each other, agreement on a common definition of terrorism and opening up of transit trade.

In their respective remarks each member of the Pakistan delegation referred to the centuries old ties of the people of the two countries and stressed on harnessing upon the innate goodwill for each other.