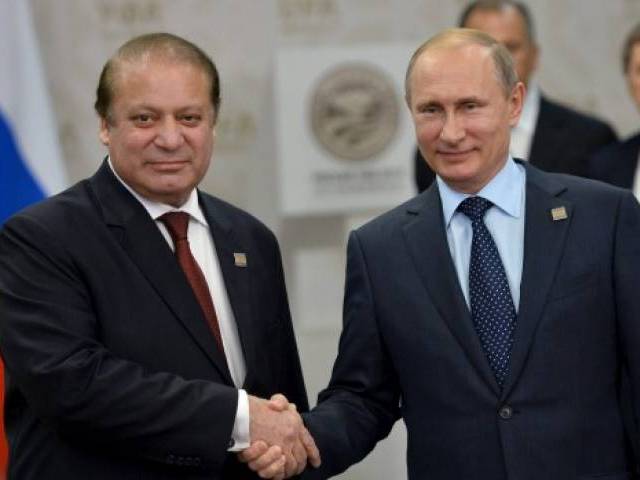 ---
ISLAMABAD: Instability, the continued threat of terrorism and now a more global power struggle in Afghanistan has been driving a realignment of ties among regional powers such as Pakistan, China and Russia.

This was stated by former diplomats and academics on Friday at a conference on "Pakistan's Relations with China and Russia: Opportunities and Prospects," jointly hosted by the Center for International Strategic Studies (CISS) and the German institute Konrad-Adenauer-Stiftung (KAS).

Pakistan, Russia and China inch closer to formal alliance

CISS Executive Director Ambassador Sarwar Naqvi, while presenting the conclusions of the conference, noted that "cross-cutting relationships were coming up in the region without entirely impacting the old relations."

In this regard, he cited examples of the Pakistan-China relationship which has remained strong over the years while at the same time Beijing and Delhi were working on improving their ties as well. Similarly, Russia had ben maintaining its traditional ties with India, but was also kindling friendship with Pakistan.

The US, on the other hand, despite its preference for a strategic partnership with India was not entirely relinquishing its ties with Pakistan either.

Moreover, Naqvi pointed that there were three major simultaneous containment efforts currently underway in the region with India 'containing' Pakistan, US 'containing' China, and the US along with Western allies containing Russia.

Dr Zafar Nawaz Jaspal, an associate professor at Quaid-i-Azam University's School of Politics and International Relations, urged the government to pursue realistic policies in order to protect vital interests of the country.

"We have to move carefully. There is no brotherhood in international relations, everyone moves according to [their own] national interest," he said, adding, "Instead of entirely relying on China and Russia, it would be better to have proactive and innovative strategies."

Dr Jaspal cautioned that while Pakistan's relations with both Beijing and Moscow were currently on positive trajectories, there could well be challenges ahead as well.

In this regard he pointed out that Russia, China and Pakistan all have concerns about the situation in Afghanistan in addition to being worried about the rise of the Islamic State (Da'esh).

This, he believed, could bring the three countries further closer, as suggested by the trilateral process which had now grown to include 12 regional countries.

Dr Jaspal added that at a meeting of these 12 countries in Moscow earlier this month had ended with the call for the Taliban to end violence and join the peace process, which Russia offered to sponsor.

Pakistan's former envoy to Russia Khalid Khattak observed that mutual concerns about Afghanistan had brought Pakistan and Russia closer.

Iran hints at joining Pakistan-Russia-China alliance

"Russia moved from an ideological position of being dismissive of Taliban and has come to recognise them as a reality. It is here that positions of Pakistan and Russia have come closer and convergences clear," he said. The former ambassador was of the view that improved China-Russia ties had also helped develop Islamabad-Moscow ties.

However, Khattak advised policymakers to come out of the cold-war-era mentality while working on external relations. He suggested that they instead look at things from the prism of alliances, blocs, and on their merit.

Syed Hasan Javed, director Chinese Studies Centre at NUST, said China, Russia and the Central Asian Republics share Pakistan's interest in seeing a peaceful and stable Afghanistan free from foreign interference.

Published in The Express Tribune, April 29th, 2017.
COMMENTS (3)
Comments are moderated and generally will be posted if they are on-topic and not abusive.
For more information, please see our Comments FAQ