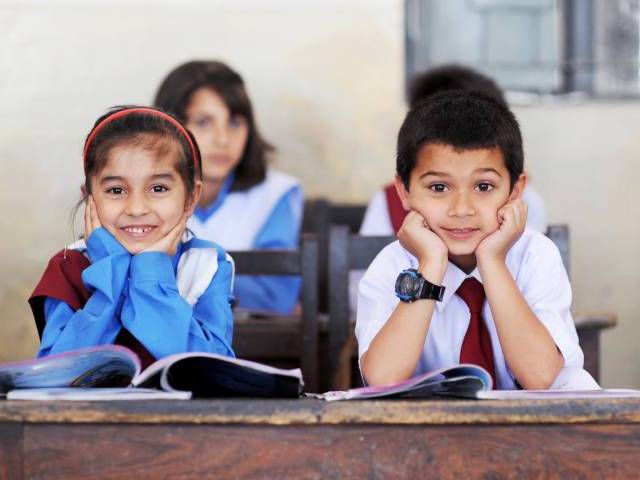 ---
PESHAWAR: The Khyber-Pakhtunkhwa government's campaign to enroll maximum children, who are out of school, hit snags after teachers put forward their charter of demands.

On April 8, the K-P government launched 'K-P School Enrolment Campaign 2017' to ensure the enrolment of maximum number of out of school children in both public and private sector schools.

However, the campaign has failed to pick up as the All Teachers Coordination Council (ATCC), a combined body of all school (primary, middle and high) teachers, started protests in the province.

PTI MPA in K-P enrols daughter in government school

They presented a list of seven demands including a time scale for teachers without any conditions, regularisation of NTS based appointment of teachers, providing teaching allowances, teacher son quota, disbandment of the government's Independent Monitoring Unit, complete audit of education funds and urged the government to allow them paid leaves.

The first ATCC protest was held on April 11 in Nowshehra, second on April 14 in Mardan, third on April 15 in Charssadda and last in Swabi on April 16 in which thousands of teachers participated.

K-P govt introduces drawing, art books in primary school curriculum

ATCC's provincial spokesman Azizullah Khan, while talking to The Express Tribune, said that they have planned a huge protest in Peshawar on April 20 in which around 50,000 teachers are expected to participate.

He said, "Until the provincial government does not fulfills our genuine demands then we would continue with our protest and if the government does not agree to our demands on April 20 then we will start a boycott from taking classes in schools."

About the ongoing enrollment drive the spokesman shared that like last time; teachers are not taking an interest in the drive which has badly affected the enrollment campaign. He said that if the government was serious to run a successive enrollment campaign then they should first resolve the teachers' issues.

Education for all: CM inaugurates school enrolment campaign

Meanwhile, K-P School Enrollment Drives Focal Person Jamilud Din Khan told The Express Tribune, that last year more than 0.7 million children enrolled in government schools while this year the campaign is still underway.

He said that K-P government has introduced several reforms to improve education service in the province. While mentioning the teachers' issues, he said that the government is taking this issue seriously and are planning to sit with teachers' representatives soon.
COMMENTS
Comments are moderated and generally will be posted if they are on-topic and not abusive.
For more information, please see our Comments FAQ