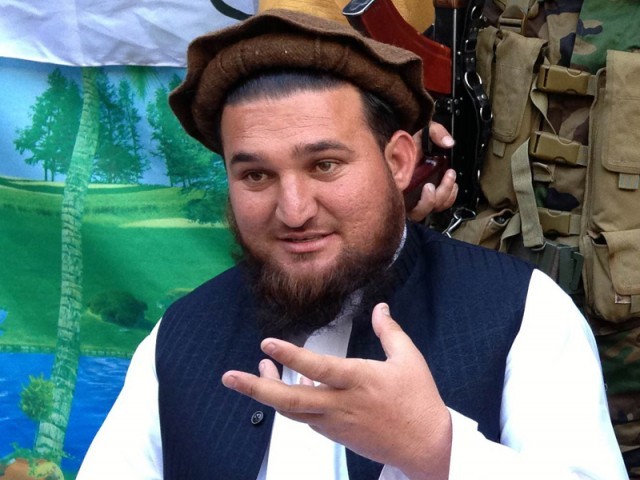 ---
Former spokesperson for the outlawed Tehreek-e-Taliban Pakistan and key commander of TTP's breakaway faction, Jamaat-ul-Ahrar (JuA), Ehsanullah Ehsan has turned himself in, the military revealed on Monday.

Maj Gen Asif Ghafoor, the director general the Inter-Services Public Relations (ISPR), revealed the development on Monday at a news briefing in which he also gave an overview of the progress so far achieved in the fight against terrorism since Operation Radd-ul Fasaad was launched in February this year.

"As far as Ehsanullah Ehsan is concerned, he is in our custody. When there is more information regarding him to share, we will do so," Maj Gen Ghafoor said without telling when and where Ehsan had turned himself in.


DG ISPR Press Brief https://t.co/HCP47XqVrm

— DG ISPR (@OfficialDGISPR) April 17, 2017


US envoy appreciates Operation Radd-ul-Fasaad for eliminating terrorism

Ehsan, whose real name is Liaqat, hails from the Sagi area of Mohmand Agency's Safi tehsil and is considered a key militant commander. Ehsan, who holds a master's degree, joined TTP's Mohmand chapter in 2007 and was given the nom de guerre of Sajjad Mohmand.

At the time commander Abdul Wali, alias Umer Khalid, was the head of the Mohmand chapter. Ehsan was later elevated as TTP's central spokesperson – a position he had kept until the death of TTP head honcho Hakimullah Mesud, who was killed in a US drone strike on Nov 1, 2013.

After Hakimullah's death, the TTP disintegrated and Umer Khalid broke away to form own faction, Jamaat-ul-Ahrar. Subsequently, Ehsan was made the spokesperson of the splinter group. However, the JuA – which is now the most lethal terror groups – replaced him with Asad Mansoor last year. There were reports that Ehsan had been replaced due to differences with the group's leadership.




Ehsan's surrender came in the wake of surrender by eight JuA commanders earlier this month. On April 3, the ISPR announced the surrender but gave out only three names – that of Akbar, Gul and Siraj. It is not confirmed whether Ehsan was among the eight militants or he surrendered later.

Confessional statement of Naureen Leghari

During the news briefing, the confessional video of a medical student Naureen Leghari was also played in which she has denied she had been kidnapped. Laghari, who went missing from Hyderabad in February this year, was arrested from Lahore's Punjab Housing Society after her husband, Ali, was killed in a police encounter last Friday.




"I want to clarify that no one kidnapped me. I came to Lahore on my own," she said. She said her husband, Ali, was planning to carry out terrorist activities, including suicide attacks and kidnapping of intelligence officials. Another man, Abu Fauji, was also working with him.

"For these terrorist attacks, our organisation gave two suicide jackets and four hand grenades on April 1. The suicide jackets were to be used [in an attack] on a church on Easter. I was to be used as a suicide bomber. But security forces raided our house on April 14," she said in the video confession.

There were reports that Leghari might have also visited Syria to join the ultraorthodox militant outfit Islamic State, also known by its Arabic acronym of Da'ish.




The chief military spokesperson, however, clarified that she had never gone to Syria. After her father's appeal to army chief Gen Qamar Javed Bajwa, security forces had launched an operation to recover her. Leghari is now being debriefed and her rehabilitation would also be done, Maj Gen Ghafoor.

His statement appears to indicate that she might not be charged with any offense and eventually would be reunited with the family in Hyderabad. He said her case had highlighted the vulnerability of youth to be exploited by groups such as Da'ish.

He said militant outfits such as Da'ish were particularly targeting 'our youth.' "Therefore, it is responsibility of parents to keep an eye on our children."

Pakistan Army backs 'MOAB'

In a first official reaction to the use of 'Mother Of All Bombs' by the US military in Afghanistan last week, Maj Gen Ghafoor said this indicated Washington's resolve against Da'ish.

"The US army is a professional army and I'm sure they must have carried out the bombing after lots of intelligent efforts," he said, endorsing the American action, which is criticised – even by certain quarters in the US – because of the danger of collateral damage.

[/fbvideo]

Family shaken by Naureen Jabbar's 'arrest' in Lahore




Reports suggested that dozens of Da'ish fighters were killed in the bombing. Pakistan's endorsement of such an action stems from the fact that most of Da'ish fighters in Afghanistan were previously members of the TTP and other Pakistani militant outfits.

Islamabad has long expressed concerns over the lack of action by the US and Afghanistan against these elements. Even the JuA and other splinter groups of TTP are thought to be working closely with Da'ish in Afghanistan.




Gains in Radd-ul-Fasaad

The chief military spokesperson said since the start of the operation, 15 major raids have been carried out countrywide while 4,535 intelligence-based operations [IBOs] have also been conducted since February.

As many as 108 terrorists have been killed in these operations and 4,510 suspects arrested. Of these, 2,692 have been apprehended from Punjab, 335 from Sindh, 261 from Baluchistan, and 1,247 from Khyber Pakhtunkhwa and Federally Administered Tribal Areas.

Similarly, 1,859 unregistered Afghans have also been detained while under a deweaponsation campaign, 4,083 illegal weapons and 622,191ammunition have also been recovered.




Naureen was not recruited by terrorists from university: LUMHS VC

"There are two parts of the operation – kinetic and non-kinetic. Under the kinetic part, facilitators and abettors are to be dealt with, regardless of where they reside in the country," he said. "This is to be undertaken through IBOs."

He said the IBOs were also aimed at cutting the connectivity of terrorists with their cross-border facilitators, hinting at India's Research and Analysis Wing [RAW] and Afghanistan's National Directorate of Security [NDS].

"As for the non-kinetic part [is concerned], the armed forces are to play a supportive role with respect to the National Action Plan [against terrorism]. "In addition to plugging loopholes in the system, four equally important reforms are introduced in madrassas and educational institutions, the judicial system, the police, and Fata," Maj Gen Ghafoor said

He also brushed aside the impression that operation in Karachi had slowed down. He clarified the operation in the port city was going on with the same pace, adding that due to the concerted efforts, the law and order situation had shown significant improvement in Karachi in the last couple of years.

Maj Gen Ghafoor dismissed concerns of Afghanistan over Pakistan's decision to fence the western border. "Fencing and border management will not only benefit Pakistan but also Afghanistan," he said.

The ISPR chief made it clear that Pakistan being a sovereign country had every right to take steps for its security. "The fencing is being done on the Pakistani side of the border. In the first phase, the 744km-long Afghan border in K-P will be fenced. The remaining part will be done in the second phase," he said.

Asked about the civil-military coordination to implement NAP, the chief military spokesperson said things were improving. However, he said, change could not happen overnight.

On the issue of 'Dawn leaks', Maj Gen Ghafoor referred to a recent statement of Interior Minister Chaudhry Nisar Ali Khan and said the report would be made public.

Talking about the situation along the Line of Control (LoC), he said India had increased ceasefire violations in order to divert the global attention from its atrocities in occupied Kashmir. "The Indian army committed 315 ceasefire violations in 2014, 248 in 2015, 382 in 2016 while truce has been violated for 222 times in the first four months of this year alone," he added.

(With additional reporting by Mureeb Mohmand)
COMMENTS (6)
Comments are moderated and generally will be posted if they are on-topic and not abusive.
For more information, please see our Comments FAQ