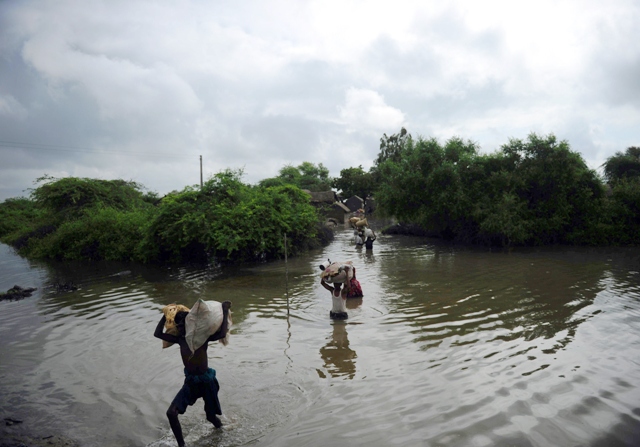 ---
ISLAMABAD: For the first time, Pakistan will have an updated and well-equipped flood early warning system at the upper Indus basin, which will help the country prevent financial, human and property losses caused by flooding each year.

Unesco – with the financial assistance from the government of Japan – is collaborating with the Pakistan Council of Research in Water Resources (PCRWR) and the Pakistan Meteorological Department (PMD) to further improve and strengthen the flood early warning system and management capacity of Pakistan.

Under its project 'Strategic Strengthening of Flood Warning and Management Capacity of Pakistan', Unesco has so far implemented two phases.

Flash floods: Pakistan asked to upgrade early warning system

"For the first time, Pakistan has tested all kinds of soil in the upper Indus Basin [for this purpose]," said the PCRWR spokesperson Dr Lubna Naheed Bokhari, while talking to The Express Tribune.

"The result of this testing will help Pakistan to have accurate data on the nature of soil we have in the upper Indus Basin, such as how much it can hold or absorb water," she added.

She said based on this data Pakistan would easily predict about floods and their intensity, when they would hit the country and would be able to take preventive measures earlier.

The Japan International Cooperative Agency's (JICA) chief representative Yasuhiro Tojo said Pakistan was one of the 10 countries most affected by extreme weather events during 1995-2014, according to the Global Climate Risk Index.

Three-year data: Monsoon flooding claimed 1,029 lives

"Three major floods in 2010, 2011 and 2014 affected more than 30 million people in Pakistan and resulted in loss and damage worth more than $14 billion," he said while speaking at a two-day workshop, which aimed at use of strategic data for reliable modeling in the context of flood forecasting.

Flood preparedness: Japan interested in upgrading early warning system

"Japan is also one of disaster prone countries. We, therefore, have sufficient experience and expertise for disaster management.  We want to enhance cooperation for disaster management sector in Pakistan," Tojo added.

Talking to The Express Tribune, an official who is working on this project, said currently Japan is the only country that is financially supporting Pakistan's Met office for upgrading its weather forecasting system.

"Despite knowing the current challenges that are being faced by the country due to climate change, the government is not making any serious effort to upgrade its Met department," he said, while requesting anonymity.
COMMENTS
Comments are moderated and generally will be posted if they are on-topic and not abusive.
For more information, please see our Comments FAQ