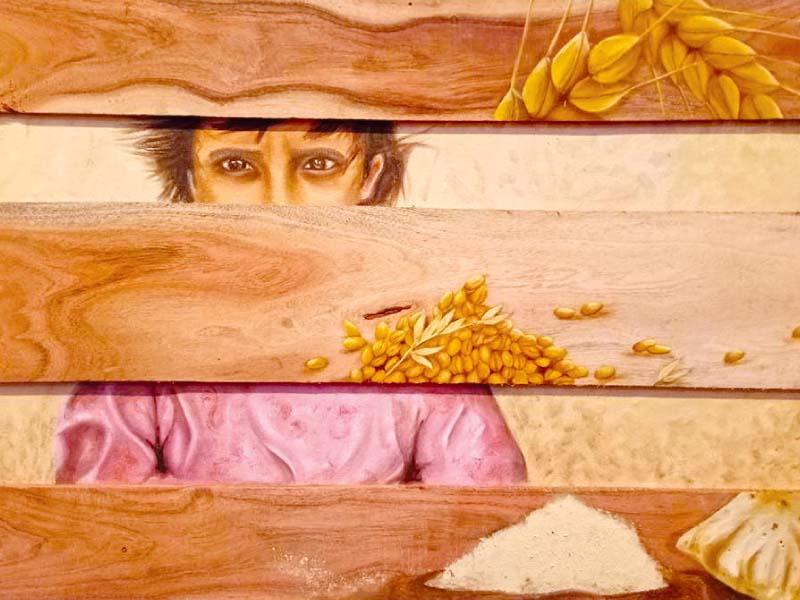 ---
LAHORE: With the aim to highlight the sustainable development goals and promoting zero hunger through visual arts, a group exhibition featuring the work of young artists went on display on Monday at Zahoorul Iklaq Gallery of the National College of Arts. The exhibition will continue till April 14.

'We the Peoples, We the Arts' has been organised by the Swiss Agency for Development and Cooperation (SDC) to mark the 50th year of its cooperation with Pakistan in collaboration with the United Nations' Information Centre.

The exhibition is a result of a competition held among art students studying at the National College of Arts of Rawalpindi, Art and Design Department of the University of Peshawar, National College of Arts Lahore, Indus Valley School of Art and Architecture and the Karachi University's Visual Studies Department to highlight the development goals on hunger with arts in categories of sculpture, painting and miniature.




A jury comprising Swiss and international art experts, and representatives of the Swiss embassy and the United Nations selected a winner for each category.

Hunger and malnutrition remain major challenges and having sufficient food is a human right but about 800 million people are still chronically undernourished, said Embassy of Switzerland Foreign Affairs department head Didier Burkhalter said.

He said the sustainable development goals (SDGs) adopted in New York by the UN General Assembly aimed for zero hunger by 2030. The foreign office relies on creativity and energy of youth as well as on their passion for dialogue and finding cooperative solutions to move this agenda, he added.

In his message, Swiss ambassador to Pakistan Marc P George said the idea of engaging youth in a competition was to not only encourage them but also to vividly capture and make visible to a wider audience the distress caused by hunger, poverty and environment that affects over 281 million people in South Asia alone.

National College of Arts' Nadeem Omer Tarar said there was a huge potential for the cultural and creative industries of Pakistan to drive sustainable development. "The youth bulge of the population, if turned into an art educated human resource, can prove to be a harbinger of much-desired social change in the country," he said.

Artist Sana Zaidi, a student of NCA Rawalpindi, has depicted a strawberry hung to dry out and perish as a symbol in her miniature painting.

"A strawberry is considered by and large a luxury fruit, yet it is cultivated by the poor inhabitants of Pakistan's northern areas," she said. "The farmers who cultivate strawberry suffer from malnutrition and I've tried to depict that contrast through my work."

Muhammad Runija's sculpture depicting a typical lunch box (tiffin) is about a food-sharing system called 'Faizul Mawaid' in the Dawoodi Bhora community, where every single home is delivered tiffin – a meal called 'thali'.

Runija said the system was built in a way that the menu for each home in a particular sector was the same, which is a sign of unity where no one is prioritised according to their wealth. "The tiffin for me is a symbol of zero hunger."

Published in The Express Tribune, April 11th, 2017.
COMMENTS
Comments are moderated and generally will be posted if they are on-topic and not abusive.
For more information, please see our Comments FAQ