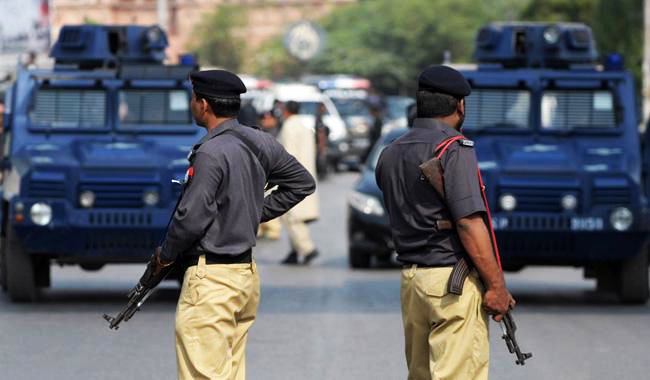 ---
KARACHI: Depoliticisation of the police is a must for effective working of the criminal justice system in Pakistan.

This was stated by former police official and Federal Investigation Agency chief Dr Shoaib Suddle who called upon civil society, media and lawyers community on Monday in a struggle for implementation of the law, especially the Police Order, 2002.

Suddle was the keynote speaker at an 'Interactive Session on Police Reforms', which was jointly organised by the Pakistan Institute of Labour Education and Research (Piler) and Citizens Trust Against Crimes at the office of Citizens Police Liaison Committee (CPLC), Karachi.

Major reforms: Govt issues much-awaited police ordinance

"Rights are not given, they are taken," said Suddle, adding that citizens' activism through courts is an encouraging sign to ensure the protection of rights given under the Constitution. According to him, the Police Order, 2002 is much better than the police laws in many countries.

Tracing the formation of the policing system by the British in unified India, Suddle said that in 1856, the Indian Board of Governors of East India Company had decided to make police laws on the same pattern as the London police laws.

But in the meantime, the 1857 mutiny happened so the British rulers framed the law in 1861 on the Irish model, he said, adding that they implemented the London model of police law only in three major cities of India - Calcutta, Madras and Bombay - while the Irish model was implemented in other parts of India.

New and improved: Khattak orders reforms for police department

"After independence, Quaid-i-Azam Mohammad Ali Jinnah had pledged to introduce the Bombay model police law in Karachi, but bureaucracy failed to fulfill that promise," he said. Later, different commissions were formed to make a new police law. The commissions gave their recommendations and finally the 2002 law was passed, Suddle said.

According to him, before its implementation, the Police Order of 2002 was resisted by many politicians who said they needed SHOs to win elections in their areas so the new law could not get the consent of politicians. "Over a 100 amendments have been made in the Police Order of 2002 since the law was passed," he added.

He said Article 143 of the Constitution makes the police laws a federal domain but also allows provinces to make amendments in the laws with certain conditions. However, in Sindh and other provinces, the federal police law has been repealed and the 1861 police law has been reintroduced, he explained.

Proposed police reforms: 'Former IGP should be part of Cabinet committee'

There is a judgment of the Sindh High Court that fundamental rights must be taught as part of the school curriculum but it has yet to be implemented, Sindh High Court Bar Association General-Secretary Kashif Paracha said, adding that the implementation of laws is a big challenge faced in Pakistan.

Besides operational and administrative autonomy, financial autonomy is also essential for the police, Paracha said, adding that an internal accountability system within the police system is important.
Before the creation of Pakistan, there was a strong police system in Sindh as the police were under control of their officers during the British rule, former Sindh police chief Saud Mirza said. "Charles Napier had passed an order that even if an army officer violates police laws, they could be arrested and tried," Mirza said.

Former CPLC Chief Nazim F Haji, while commenting on the police system, in Pakistan said, "It is outdated, arbitrary and whimsical with inadequate accountability, poor incentives, and widespread corruption".

Proposed police order

The police need to be non-political, said Piler's Karamat Ali, adding that there is a dire need for the police system to work according to the constitution and laws.

"We hope the fundamental rights, based on equality-based citizenship, are provided to all people irrespective of any difference of sex, religion and sect," he said.
COMMENTS
Comments are moderated and generally will be posted if they are on-topic and not abusive.
For more information, please see our Comments FAQ