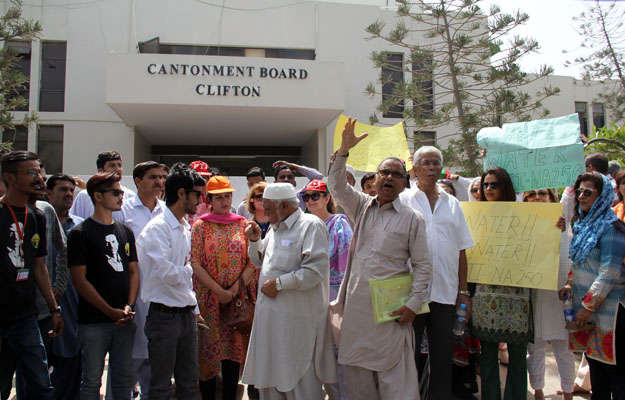 ---
KARACHI: A day after the Pak Sarzameen Party (PSP) staged a sit-in demanding the uplift of the city, the Muttahida Qaumi Movement (MQM) - Pakistan staged a protest demanding water.

Whilst Mustafa Kamal's PSP sit-in outside the Karachi Press Club entered the second day, his former party's MNA Sheikh Salahuddin, MPAs Abdul Waseem Qureshi and Jamal led a demonstration outside the office of the water utility chief.

Both the parties are apparently competing with each other over championing the cause of Karachi city where utilities and infrastructure have been left in a shambles in the politics of tug of war.

Come out and speak to us, say DHA residents to CBC head

As Kamal reiterated his stance that he will not leave the streets until his demands are accepted, MQM-Pakistan said it will return if no action is taken within the agreed time to resolve the issue.

MQM-Pakistan, during its demonstration, agreed on the words of the bureaucrat heading the Karachi Sewerage and Water Board that their issues will be resolved soon.

Kamal during his protest said that this was the first time in the country's history that the whole leadership of a party was out on the streets to demands the rights of people.

Meanwhile, both the parties have kept open the option to accuse each other for the problems of water, power, and other utilities the city has been facing.

Arif Alvi grabs Darakhshan SHO 'by the neck'

Pakistan Tehreek-e-Insaf MPAs, on the other hand, led a demonstration by residents of Defence outside the Cantonment Board Clifton office for the second day on Friday to protest a new tax on water. The protesters say they will take the matter to the Corps Commander and then court if their issues are not resolved.
COMMENTS
Comments are moderated and generally will be posted if they are on-topic and not abusive.
For more information, please see our Comments FAQ