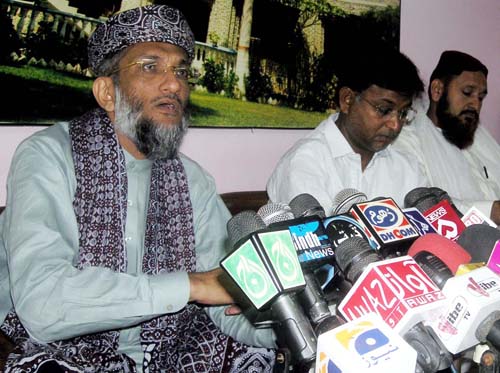 ---
HYDERABAD: Milli Yakjahti Council (MYC) chief Sahibzada Abul Khair Muhammad Zubair has rejected the foreign office's justification over former army chief General (retd) Raheel Sharif's joining of the Saudi-led 41-nation military coalition.

"When the government of Iran is expressing apprehensions over Pakistan's joining of the military coalition, then how can the foreign secretary [Tehmina Janjua] say that the teaming up isn't against the interests of Iran?" Zubair, who also heads Jamiat-i-Ulema-i-Pakistan (JUP), questioned in a statement.

In a briefing to the National Assembly's Standing Committee on Foreign Affairs on Tuesday, Janjua tried to allay concerns with regards to Iran's objection. She said the alliance has been made to combat terrorism rather than any specific country.

Saudi-led alliance not aimed against any country: Tehmina

"How can she be right [about justifying the coalition] when Muslim countries like Iraq, Iran, Syria, Azerbaijan and others are not part of this military grouping?" he asked. The MYC chief questioned how Pakistan could maintain neutrality vis-a-vis its relations with Saudi Arabia and Iran after jumping on the bandwagon of this alliance.

"How can the foreign secretary guarantee that the move will not turn our army against Iran? Has our government made the alliance agree to our terms and conditions in this regard [Iran]? If it's not done then how can we not follow the decisions jointly made by the coalition?" he further questioned.

Zubair said the government should have considered the Parliament's resolution on Yemen before allowing Gen Sharif to head the alliance. "We already have enemies in our neighbourhood. We shouldn't lose our friendly neighbours."
COMMENTS (5)
Comments are moderated and generally will be posted if they are on-topic and not abusive.
For more information, please see our Comments FAQ