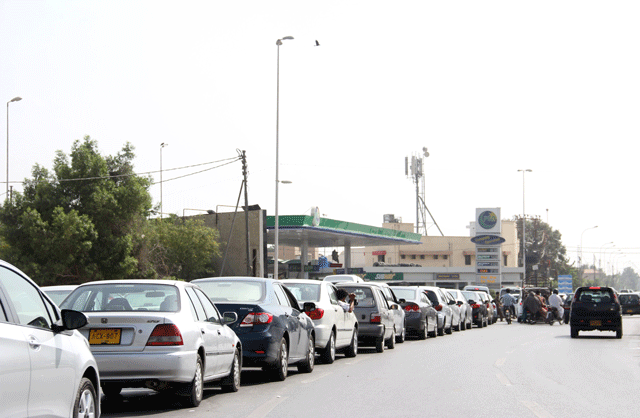 ---
KARACHI: Fuel shortage and long queues at petrol stations were witnessed in Karachi Tuesday afternoon as pumps ran short of fuel.

They were shut down due to non-supply of petrol and diesel as oil tankers associations went on strike against the imposition of 16% sales tax.

Panic spread in the metropolis as motorists flocked the fuel stations in search of the scarce petrol and diesel. Most of the petrol pumps had discontinued selling fuel. Those still selling petrol and diesel had large queues of cars and motorcycles as well as people trying to obtain fuel in bottles.

Earlier, the chairperson of All Pakistan Oil Tankers Owners Association, Akram Durrani, had told The Express Tribune that the strike will continue until the government revisits the 16% sales tax.

Fuel shortage feared as tankers stop supply

"The strike will not end until the government announces taking back the decision of [sales] tax," he said.

Later, Durrani said they have called off the strike following the government's assurance over reconsidering its decision and resolving the issue in Islamabad. He added that they are now going to get their tankers loaded to resume the supply of petrol and diesel to fuel stations.

Pakistan State Oil (PSO), the largest oil marketing company with a market share of over 50%, had earlier announced in a statement that "the company is striving hard to ensure that the supply of petroleum products continues across the country without any hitches."

Though the strike is not against PSO and the company has no stake in the matter, PSO's supply chain is vigilant of the situation, the statement added.

Litre price of petrol, diesel up by Rs1; kerosene unchanged

PSO reiterated its commitment to maintaining uninterrupted fuel supply to meet the country's fuel and energy needs under all circumstances.

Pakistan is a net importer of oil. It meets 25% of its needs through local resources, while the rest of the 75% requirement is met through imports.

Karachi, having two seaports, plays a crucial role in the import and supply of oil to the upcountry.