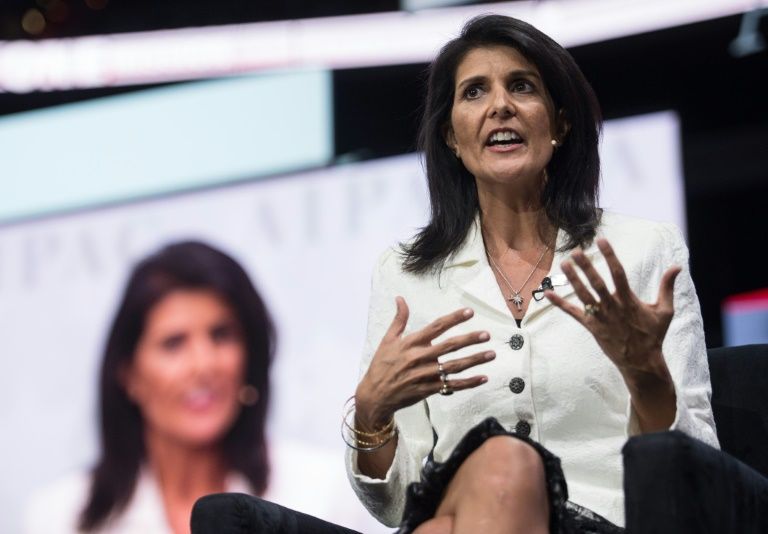 ---
UNITED NATIONS: Instead of waiting until "something happens", the United States on Tuesday said it would try and "find its place" in efforts to de-escalate strains between Pakistan and India, the Hindustan Times reported.

"It's absolutely right that this administration is concerned about the relationship between India and Pakistan and very much wants to see how we de-escalate any sort of conflict going forward," the US Ambassador to the UN Nikki Haley said while addressing a press conference after assuming the role of President of the Security Council at the United Nations (UN) for April.

Iran offers to mediate between Pakistan, India over Kashmir

The statement indicates that US President Donald Trump could play a role in such actions and signals a seeming shift in the US attitude of not engaging in Pak-India disagreements, said the newspaper.

Haley said she expects that the [US] administration will assist in talks and try to "find its place to be a part of that [de-escalating tensions]."

"We don't think, we should wait till something happens," she told the reporters.

The senior Indian-American member of Trump's cabinet made the latest remarks when questioned if the US could make efforts to bring Pakistan and India on a table for peace talks as tensions heightened between the neighbouring over Kashmir rises.

"We very much think that we should be proactive in the way that we are seeing tensions rise and conflicts start to bubble up and so we want to see if we can be a part of that," she added.

"So I think that will be something that you will see members of the National Security Council participates in but also wouldn't be surprised if the president participates in that as well."

Trump's deal-making skills 'can help resolve Kashmir', says Pence

This is the first time Haley has made statements as a member of Trump's cabinet addressing tensions between Pakistan and India.

Kashmir has been a troubled valley since the partition of the Subcontinent; both Pakistan and India claim it in full, both governing separate disputed parts. Post-independence from the British, the two neighbouring countries also fought three wars, two of them over Kashmir.

Last December, during an interview with NBC News, US Vice President Mike Pence had also said that Trump could use his "extraordinary deal-making skills" to reduce tensions around the world and resolve problems, including the Kashmir issue.

This article originally appeared on the Hindustan Times.