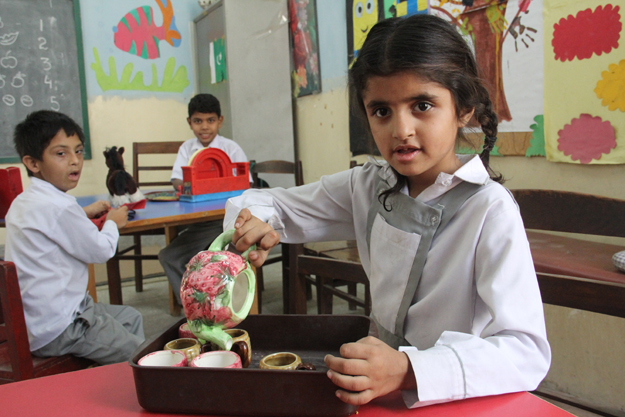 ---
KARACHI: Built in 1987, the Government Special Education Complex is changing the lives of more than 200 students who have been labelled 'special'.

The complex, situated in Gulistan-e-Jauhar's Block 15, caters to students from all the four main disabilities recognised in Pakistan - hearing, visual, speech and physical impairments.




But the complex's infrastructure is deteriorating because it has not been maintained and came under the provincial purview after the devolution of powers. "The complex was maintained until it was a federal institute but since the 18th Amendment it has never received maintenance funds," said the regional director for special education, Dr Abdul Khaliq Solangi.

The special education situation in the city can be gauged by the fact that there are eight centres for special education but not a single college or degree-awarding institute for students.

Headcount: Disabled want to be counted in upcoming census

"A big chunk of special children goes to private non-governmental organisation-run schools and centres," explained Solangi, adding that underprivileged children come to government centres and they should be provided better opportunities.




Visually impaired children often pursue further studies after completing their matriculation from the institute and obtain admission at government colleges where there are specific quotas but what about the other hearing and speech impaired students, Solangi questioned. The only college for special education is in Hyderabad, so how can special children who face difficulties studying in the same city go and study there, he added.

This complex is the main institute in the city for special education, said the centre's director Engr Jamnadas Rathi, who feels that had the centre not been devolved to the province, it would have been upgraded to university-level because there is no college in the city to cater to their students after matriculation.




"We will be bringing up the issue of upgrading the centres in Karachi to college level at least," said Special Education Secretary Dr Zulfiqar Ali Shallwani.  He also said that after the upgradation to colleges, the centres will be upgraded to degree awarding institutes.

The complex

Colourful classrooms full of games, interactive study material and smiling faces is proof of the involvement of the class teacher and attendant. "We have a ratio of around 12 students to one teacher and attendant in each class," shared one of the teachers of Prep II.

In first, Karachi's UIT students develop robotic legs for the disabled

With 111 teachers and attendants, the centre has been divided into four sections, one for each disability category, with a separate physiotherapy section. "Not all the students are taken in the physiotherapy section; we assess them and their ability to perform and make sure they will not sustain exercise-related injuries," explained physiotherapist Dr Ratna Shah.




The complex was designed with ramps for physically challenged students to easily reach to the second floor to attend classes, while a space has also been designated for an elevator, which will be installed soon. Classes are held between 8:30am and 2pm and the centre also provides a pick and drop service. "We have five buses and two small coasters to pick and drop students free of charge," said Rathi.

Physiotherapist Dr Sunil Kumar said they also conduct outpatient departments so parents can bring their children and are counselled on how to deal with their disability.




"The students are admitted after the age of five but the counselling starts as soon as the parents get to know about their child's disability," he said, adding that they have introduced physiotherapy for students and will be beginning hydrotherapy by the end of the year for students with cerebral palsy.

Physically challenged sisters inspire others through hard work

There are no specific criteria for admission - parents just have to fill up a simple form. "We usually call parents for counselling and meetings to make them understand their child and his or her mental capacity," explained Rathi, adding that they also have a social department and the system provides family-visit counselling. Other than that, they also have liaison with nearby hospitals to refer students in case of emergencies.




"There is a need to understand that there are more than the four disabilities we cater to, because in Pakistan it has recently been accepted that Down Syndrome and autism are also disabilities," added the director.

Vocational training centre

The complex also has a vocational centre where students who are taught different skills such as computers, candle making, envelope making, electrical work, tailoring, jewellery-making and handicrafts.

Deputy Director of the complex Zakia Elahi said students shifted to the vocational centre from the school section are usually above the age of 15 and can be up to 30 years of age. "By learning something they can at least earn a good living," she explained.




The vocational section also has a separate display room where the work done by students is exhibited and put on sale at exhibitions held around the city.

"I know how to install Windows, I can work on In-page and I also know how to work on Microsoft Excel and Word," said Aftab Iqbal, who is learning computers at the vocational centre.




Autism centre

The land for the autism centre has been allocated and the building is to be built by June, 2018. The project has been included in this year's budget under the 'new schemes' section and construction will soon be started. Registration for the autism section has been started and a temporary section will be opened in the same complex.

"A few rooms have been spared for the section and registration has begun," said the head of the autism section Dr Shah, adding that a temporary section will be helpful to understand the problems the department needs to cater to.