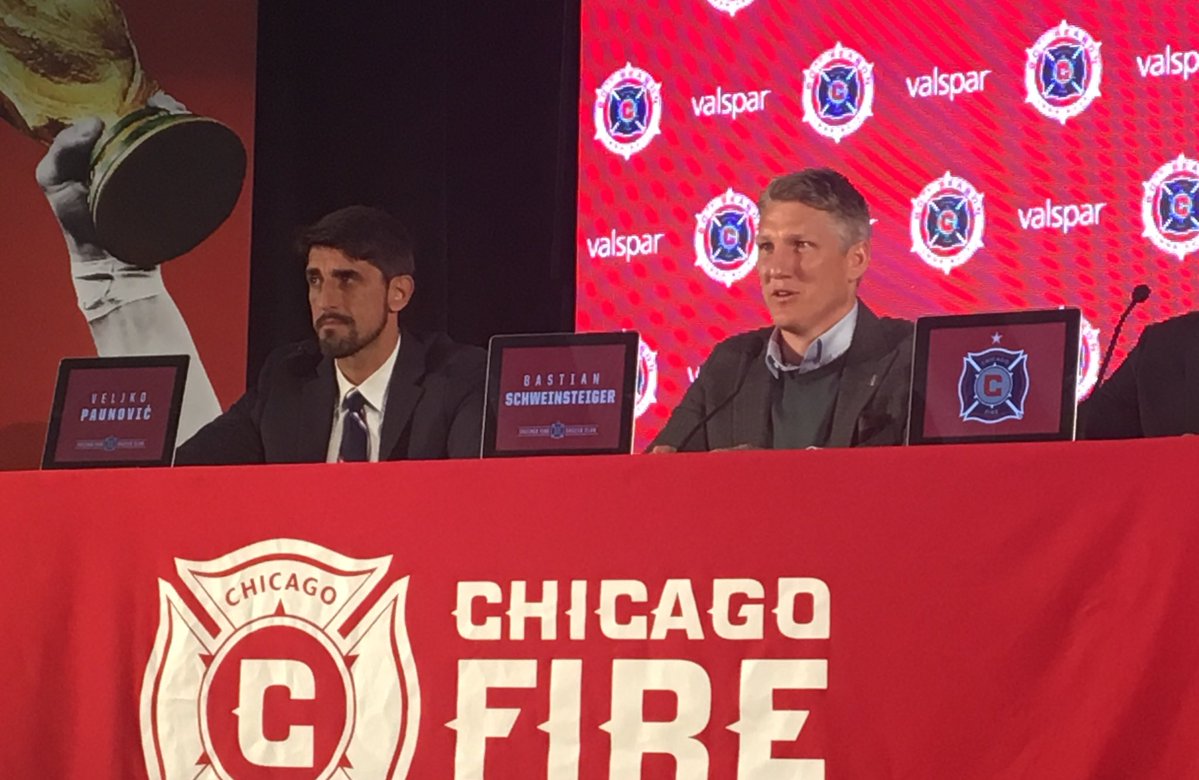 ---
CHICAGO: An unexpected question about the possibility of Chicago Fire winning the World Cup wrong-footed Bastian Schweinsteiger as the German star was formally unveiled to Major League Soccer on Wednesday.

The iconic midfielder was all smiles as he talked about the latest stop in a career which has seen him lift the World Cup with Germany as well as the Champions League with Bayern Munich.

But the 32-year-old was momentarily puzzled by a question from a video journalist working for AFP who wanted to know if the "World Cup was a realistic expectation" for Chicago Fire now that Schweinsteiger had joined the franchise.

As Schweinsteiger sought clarification over the question, Chicago general manager Nelson Rodriguez promptly intervened.


MLS club sign Man United's Schweinsteiger: report


"We as a club don't play for the World Cup, we play for the MLS Cup," said Rodriguez.

Schweinsteiger then diplomatically responded with a general reply about his competitive mindset.

"I always believed that you can win the game even if it's against the best team in the world," he said. "Everything's possible."

Derek Henkle, the video journalist who asked the question, later said his question "missed its mark."

"I'm truly sorry if I offended anyone," he said. "As a general assignment video reporter, clearly I didn't realize that Chicago Fire couldn't qualify for the World Cup. My question missed its mark but it has allowed me to become better educated on the ins and outs of soccer."

Chicago Fire later referenced the exchange in a light-hearted post on Twitter, showing a picture of a smiling Schweinsteiger training with his new teammates with the hashtag #RoadtoRussia.


#RoadToRussia 😂 pic.twitter.com/9n3m8M34UW

— Chicago Fire FC (@ChicagoFire) March 29, 2017
COMMENTS
Comments are moderated and generally will be posted if they are on-topic and not abusive.
For more information, please see our Comments FAQ