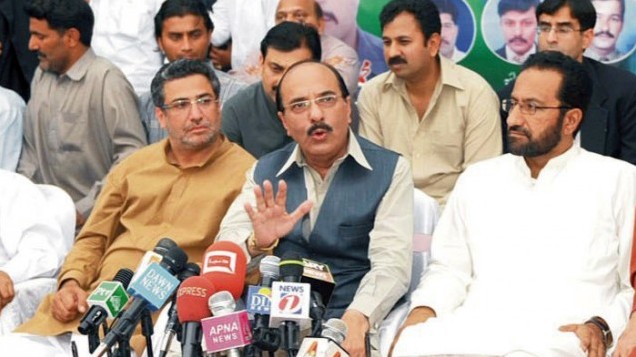 ---
LAHORE: PML-Q alleged on Sunday that PML-N leaders forced ex-Bank of Punjab President Hamesh Khan to become an approver against Chaudhry Pervaiz Elahi.

Addressing a press conference in Lahore, PML-Q Senator Kamil Ali Agha said Hamesh Khan had written statements in this regard. The statements said that Shahbaz Sharif had pressurised him to become an approver against PML-Q leader Elahi.

Agha also revealed that Hamesh Khan was threatened when he rejected a loan application of the Sharif family. Meanwhile, PML-Q chief Shujaat Hussain claimed that 95 per cent of the money from the Bank of Punjab fraud case has been recovered.

A swift reaction:

Punjab Law Minister Rana Sanaullah dismissed PML-Q allegations regarding loans taken by the Sharif brothers from the Bank of Punjab.

Talking to Express, Sanaullah while rebuking the PML-Q's allegations,  said that the Sharif brothers were out of the country in 2007 and therefore were not able to obtain a loan.

The PML-N leader claimed the Chaudhry brothers are afraid that Hamesh Khan will disclose their corruption so they have started a pre-emptive campaign in this regard.

He said that Hamesh Khan is involved in a fraud of nine billion rupees and Perviz Elahi was the Chief Minister of Punjab at that time so it is impossible that the fraud happened without his consent.