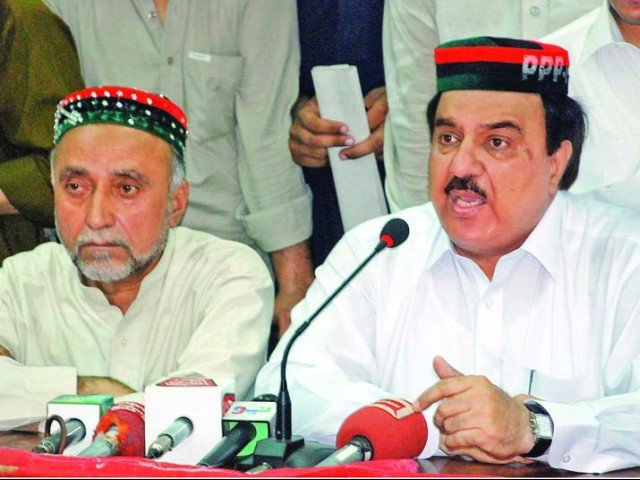 ---
PESHAWAR: "I can quit politics, but never Pakistan Peoples Party (PPP)," said Syed Zahir Ali Shah of the PPP while rejecting the invitation of Chief Minister Pervez Khattak to join Pakistan Tehreek-e-Insaf (PTI) on Thursday.

Khattak visited his residence and invited him to join PTI party.

The former provincial health minister said that he would never quit the party of Zulfkar Ali Bhutto and his daughter Benazir Bhutto.

PTI founding member joins PML-N

"I have pledged my allegiance to Benazir Bhutto and Zulfikar Ali Bhutto," he told media persons after the gathering.

He said that when he had met with the chief minister, he had told him that he would consult with his family and party workers before taking any decision.

"This did not mean that I had, in any way, agreed to join PTI."

PPP workers and leaders also passed unanimous resolutions, rejecting Pervez Khattak's invitation. Instead, they advised him to join PPP.

Addressing political activists, Zahir Ali Shah said that PTI's leadership would not be in a position to win any seat in the province in the upcoming general elections.

"Its leadership lacks political acumen and its government has failed to deliver … They are simply fishing for electable candidates," said Shah.

Pointing out that there were rumours that other PPP leaders were engaging in talks for switching political loyalties, he said that they should stay away from other political parties as switching parties would destroy their political prospects.

He said that Amir Muqam of Pakistan Muslim League-Nawaz (PML-N) and chief of Jamat-e-Islami (JI) Sirajul Haq had also asked him to join their parties but he had also rejected their invitations.

Referring to the much-delayed party re-organization, he said that the party's provincial leadership was working to elect eligible leaders at district and town levels in accordance with the wishes of party workers.

Veteran lawyer, TV host Naeem Bokhari joins PTI

He said that political situation was not static and there could be adjustments. "We cannot rule out the possibility of political alliances with other political parties."

Dispelling rumours about bickering within party ranks, he said that differences exist in all parties and "this is the real democracy".

"I will never leave PPP even if I do not get party ticket to contest (general) elections," said Zahir Shah.