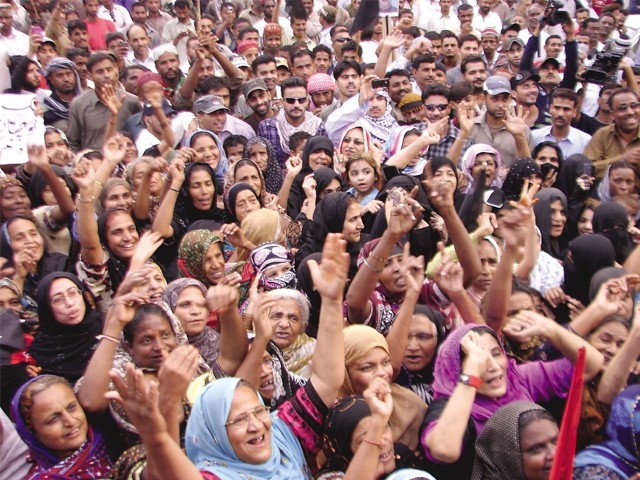 ---
LAHORE: The fact that a group of young women is discussing its Women's Day celebrations in secret and at an undisclosed location speaks volumes about the fear of these organisers.

A day before their event which will have speeches, plays and panel discussions, the women worry for their safety.

"The world is celebrating International Women's Day. So are we, but amid constant fear of harassment," comments Aruj Orangzaib. "One can easily understand that Pakistani women are living in a pathetic environment." She says despite the fact there has been some movement on the legislative front over the last few years, there needs to be a transformation of society's overall mindset.

Bad laws underpin global 'rape epidemic', let rapists off the hook: report

Aliya, an artiste at Azad Theater, talks to The Express Tribune about harassment at the workplace. "We are at the worst stage of gender inequality." She points out that the government is celebrating the occasion by organising large seminars in an air-conditioned environment, but it is least aware of ground realities. "We are being disgraced and pained at every step," Aliya stresses.

She adds women are still being murdered for refusing marriages. "In such conditions, how can they say women are empowered? Even if the existing laws are implemented, women will be ever grateful to the government," she says.

Punjab Nursing Director General Kauser Parween says the professionals from her field are also facing turbulent times, much like working women all over the country. "Everyone sees nurses as aliens who do not need respect. She echoes Aruj's and Aliya's views, saying there is a desperate need to change society's mindset by implementing social reforms and legislation.

Female Saudi horse trainer sees hope for women

Dr Sarah Faiz from Mayo Hospital speaks about the horrific conditions women doctors have to work in at public hospitals. "Lady doctors do not have separate washrooms and prayer areas despite the fact that they are on duty for up to 36 hours," Dr Sarah says.

"As a working woman, I specifically call for society to be educated so that our daughters and sisters can explore the proper rights of living," she adds.

Noted writer Amna Mufti urges men to recognise the fact that a woman is their mother and all women should be given the same respect.

Red Workers Front General Secretary Adam Pal points out that an alarming nine million young girls are working as domestic labour. He adds they have no rights and are being subjected to torture, sexual harassment and other types of violence.

Women's rights: an indigenous movement

"Different indicators reveal that Pakistani women are living in the worst conditions and cannot liberate themselves without a socialist victory," he concludes.

Saleha, a social activist, says March 8 will mark a call to action for action for the women's movement. "This is the only one to improve the status of women."

According to the World Economic Forum (WEF) Global Gender Gap Report 2016, Pakistan ranks 143 out of 144 countries in the gender disparity index, way behind Bangladesh and India which are 72 and 87, respectively.

Pakistan is also the worst performing state in South Asia and has been for the last couple of years.

Published in The Express Tribune, March 8th, 2017.