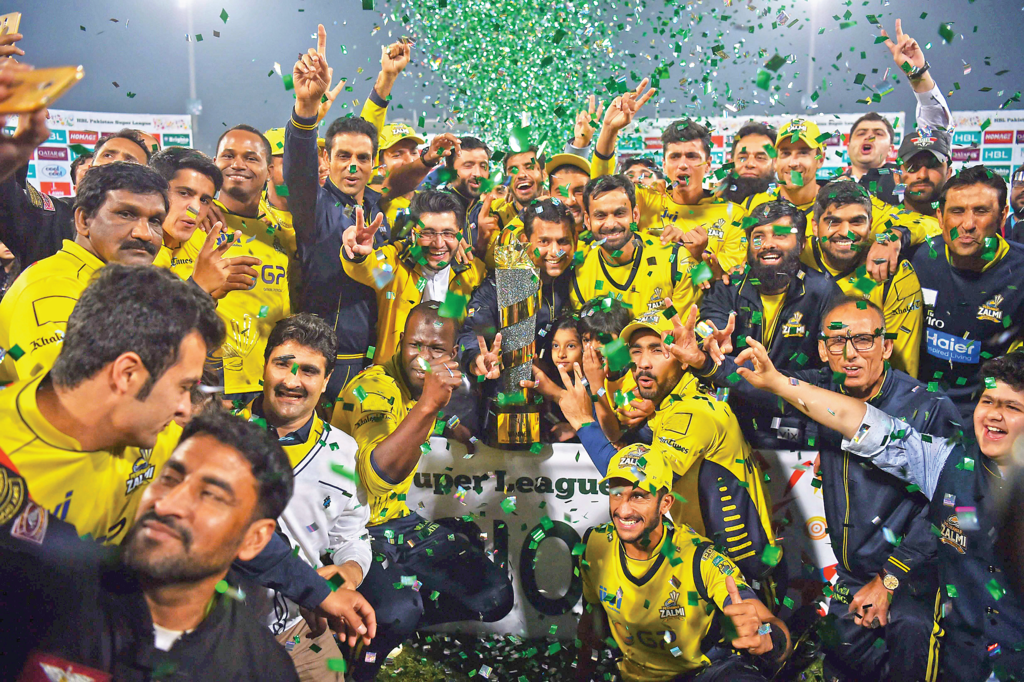 ---
LAHORE: Peshawar Zalmi may have lifted the Pakistan Super League trophy by virtue of its 58-run victory over the Quetta Gladiators but the greater triumph was claimed by all Pakistanis on Sunday night.

And as the 30,000-strong crowd packed the stands in Lahore's Gaddafi Stadium to witness the finale of the thrilling T20 tournament, it was the phantom of terror that was vanquished.

Peshawar Zalmi crowned PSL2 champions

Cricket-crazed Pakistan has been cricket starved ever since the 2009 attack on the Sri Lankan cricket team which killed six people and wounded several players. As Pakistanis braved terrorist attack after terrorist attack in the years that followed, virtually no foreign player dared to step inside the country. In those eight long years in between, only minnows Zimbabwe picked up the courage to play a tournament on Pakistani soil.

As Pakistan turned the tide in the fight against terror with Operation Zarb-e-Azb, there was a glimmer of hope that cricket may yet return to the country. When the number of terrorist incidents dropped to their lowest level since 2006, those same hopes grew – the return could happen sooner than later.

Millions of eyes in the country turned to the second edition of the PSL. Until that fateful week of February.

Beginning with the 13th of that month, a string of terror attacks killed more than 100 people across Pakistan. The deadliest of those incidents – a suicide bombing at the shrine of popular Sufi saint Lal Shahbaz Qalandar – all but dashed those hopes.

But against all odds, cricket finally returned to Pakistan on Sunday night, as a defiant crowd welcomed cricketers from West Indies, South Africa, Zimbabwe and England to Gaddafi to play along with their Pakistani counterparts.

Match report

Despite being evenly matched on paper, the final tie between Peshawar Zalmi and Quetta Gladiators turned out to be a bit one-sided as wicketkeeper-batsman Kamran Akmal guided the former to a 58-run victory courtesy of a match-winning knock.

Although Quetta won the toss, they asked Peshawar to bat first. Zalmi batting first posted 148 runs, losing six wickets in 20 overs. After Zalmi lost the first wicket on 42 runs, Akmal scored 40 runs off 32 balls with six fours and a six and built a 40-run partnership with Marlon Samuels who scored 19 off 17 balls. Zalmi then lost three quick wickets but unbeaten skipper Darren Sammy came to the rescue and struck three big sixes and a four to his 11-ball 28 runs.

Chasing 149, Gladiators were restricted on 90 for all in 16.3 overs as they lost three quick wickets on 13 runs. Captain Sarfraz Ahmed managed to hold off the fall of wickets briefly and was able to score 22 runs off 11 balls before he was dismissed by Muhammad Hafeez.

Days of isolation over: PM

Once again the emerging talent from Peshawar Muhammad Asghar showed his heroic skills with the ball and took three main wickets of Anamul Haque, Sean Ervine and Muhamad Nawaz giving away 16 runs along with Hasan Ali and Wahab Riaz taking two wicket each for 13 runs both while Hafeez and Chris Jordan took one wicket each for 21 and 16 runs respectively.

At the presentation ceremony after the match, Sarfraz admitted the target was chase-able. "We didn't bat well. We lost five wickets in the first six overs; that was the turning point. I want to thank the crowd in Lahore. I want to felicitate the PCB. They managed the whole event very well. I want to thank all the forces: army, police, Rangers and everyone else for providing security," he said.

Darren Sammy, in turn, said: "To me it's more than just a game. It all started in the drafts. Lala [Afrdi] made me the captain, he was a better Pakistani player to support. One of our mottos was to bring back smiles and tonight there will be a lot of smiles on faces in Peshawar. I must thank the PSL management for putting up a good event. The standard of cricket was good. I am happy I came [to the PSL]."

We will not bow down before anyone: Sethi

PSL Chairman Najam Sethi, the man behind the successful organisation of the event, termed the PSL final a victory for Pakistan and said the country will not bow down to anyone or anything.

"Zinda dilane Lahore, Zinda dilane Pakistan, I thank you all very much," said PSL chairman Najam Sethi while addressing the crowd during the closing ceremony. "This PSL is yours. If you were not with us, then this would not have happened. Today we have people from Khyber-Pakhtunkhwa, Gilgit-Baltistan, Karachi and Balochistan here in Lahore. They are here from every nook and corner [of the country]. This sends out a message that we are united, we will not bow down before anyone or anything."

Sethi, sunk in emotion, thanked the people of Pakistan for supporting the idea of holding the final in Pakistan and said tonight's victory would go to Pakistan.

Addressing the concluding ceremony, Sethi appreciated Punjab Chief Minister Shehbaz Sharif for his all-out effort to make the PSL final possible in Pakistan. He thanked law enforcing agencies for providing foolproof security arrangements for the biggest cricket event.

20 thoughts we had while watching PSL play-offs

Former Pakistan captain Shahid Afridi echoed Sethi's words and said the event will send out a positive message to the world. "I am here to support foreign players who came in for the final," said Afridi. "I want to thank [Peshawar Zalmi captain Darren] Sammy and everyone else for coming out. This [final] will send a positive message to the world."

Published in The Express Tribune, March 6th, 2017.