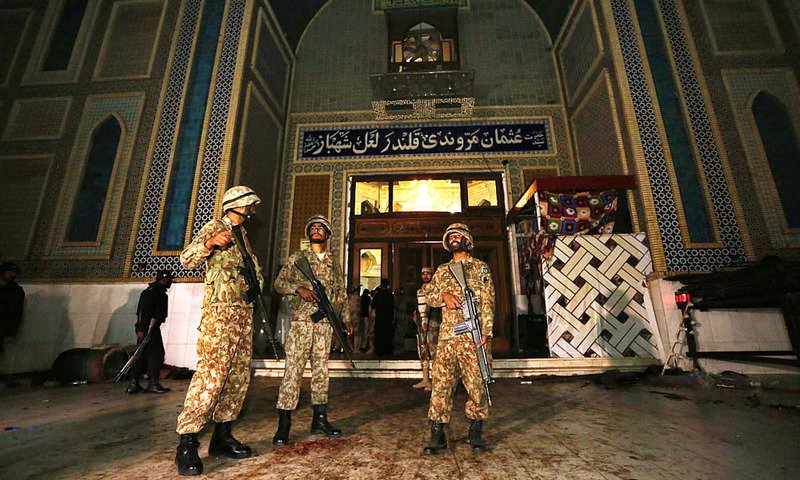 ---
SUKKUR: It's an open secret that terrorists and criminals have been using uncharted and unfrequented routes on the Sindh-Balochistan border to slip in and out unchecked and unchallenged.

Although the popular border routes are dotted with police checkpoints, large swathes of the long frontier are still unmanned, allowing a terrorist-criminal nexus to move between the two provinces with impunity.

After last month's sickening carnage at the shrine of popular Sufi saint Lal Shahbaz Qalandar in Sehwan, which killed and maimed dozens of devotees, top police officials linked the suicide bombing and previous such terror incidents in Sindh to terrorists operating from Balochistan.




Nonetheless, the authorities appear to lack the resolve and will to plug the border holes to check the movement of terrorists from Balochistan. Though the Sindh government has put in place some cosmetic measures, no serious attempt has been made to secure the unpopular and unfrequented border routes between the two provinces.

And if that were not enough, both officials and observers have criticised combing operations in the Sindh-Balochistan border areas, saying that poor planning has allowed terrorists time and space to evade the crackdown.

Balochistan apex committee: Panel vows not to let terrorists resurface

"No security measures have so far been taken to curb the influx of terrorists and criminals entering from either Balochistan or Punjab following combing operations in the two provinces," a police officer from Larkana division told The Express Tribune on condition of anonymity. "Terrorists have been able to flee to areas in interior Sindh because of poorly planned combing operations," he said.

Unregistered seminaries have also been allowed to operate in Sindh in particular and many blame them for the uptick in sectarian violence in the province.

Popular routes

Balochistan has its borders spread across the Larkana division, which includes Qamber-Shahdadkot, Shikarpur, Jacobabad and Kashmore-Kandhkot.

Balochistan's Usta Mohammad and Jhal Magsi areas are just 30 kilometres away from the Qamber-Shahdadkot district.




Similar is the distance between Jhal Magsi and Qubo Saeed Khan, the only difference being the Kirthar mountain range dividing Qamber-Shahdadkot and Balochistan. The mountain range itself provides a classic cover to the terrorists travelling between the two provinces.

Talukas Garhi Khairo and Thul of district Jacobabad are the bordering areas of Dera Murad Jamali and are just eight kilometres away from Jacobabad, while Usta Mohammad is 25 kilometres away from Garhi Khairo taluka of Jacobabad.

Three personnel, including army captain killed in Balochistan IED blast

Balochistan's Manjhipur is just 40 kilometres away from Thul taluka of Jacobabad and the distance between Garhi Hassan Sarki to Panhwar Sanhri district Naseerabad is just 20 kilometres.

Tri-border area at Dera Morr near Kashmore borders with Sohbatpur and Sui of Balochistan.

Though main arteries running between the two provinces are largely checked there still remains a vast area of land regularly used by terrorists to travel between Sindh and Balochistan.

Lost glory

Once popular for its highly educated people and trade, Shikarpur is now known for all the wrong reasons.

Owing to the apathetic attitude of the ruling elite the city now wears a deplorable look.




Following a string of suicide blasts in Shikarpur and Jacobabad in 2010, the authorities were quick to announce security plans, but nothing practical has been done till date.

A noted writer and analyst of Shikarpur Shahab Usto blames growing terrorism on unregistered seminaries in the province.

"Poverty has increased manifold in the province which forces parents to send their boys to seminaries instead of schools. It is an irony that after sending their children to seminaries, parents don't keep an eye on them and have no idea what their children are taught," he said.

He said that despite the national action plan there has been no check and balance on the funds the seminaries received.

"Khanpur of district Shikarpur is said to be the hub of terrorist activities and people easily fall prey to terrorists," he added.

Similarly, Wadh according to him is the hub of terrorism in Balochistan, where large number of Brohis live and Brohis from Shikarpur and Wadh frequently visit each other's places.

The terrorists and criminal elements are quite familiar with the unpopular routes between the two provinces and therefore their movements often go unchecked.

Pakistan Peoples Party's Sardar Wahid Bux Bhayo on the other hand was of the opinion that drone attacks have done more harm to Pakistan than good.

"Indiscriminately killing criminals and civilians has created resentment among the youth who have now taken up arms against the state," he said.

Balochistan situation: National Party a key ally: Nisar

Former MNA Dr Ibrahim Jatoi, who twice survived an attempt on his life, said that the government was only beating about the bush and not getting to the root cause.

Allama Mohammad Shah Kazmi, a Shia cleric from Khanpur, said it was common knowledge that terrorists from Balochistan's Wadh and Mastung have links with the criminals in Khanpur. "They freely cross between the provinces without any let or hindrance," he added.

In stark contrast, the Larkana Commissioner Mohammad Abbas Baloch said that measures were in place to monitor the unpopular routes to curb the influx of terrorists.

Published in The Express Tribune, March 4th, 2017.
COMMENTS
Comments are moderated and generally will be posted if they are on-topic and not abusive.
For more information, please see our Comments FAQ