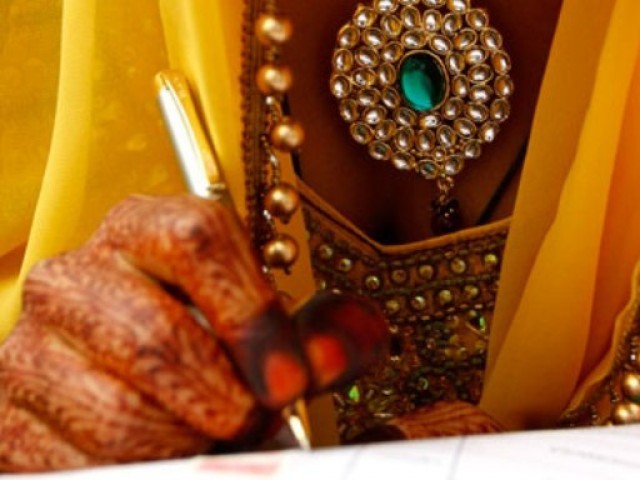 ---
The bill passed by the K-P Assembly to outlaw dowry is a landmark legislation in its scope and impact. It will finally free people from one of the most oppressive social customs that our society knows and make weddings a more happier affair instead of the burden that it becomes for the family of the bride.

This custom has long denied women self-respect and has treated them as equivalent of property or goods with their worth being valued by the wealth of their families. Now with this bill, the maximum value of gifts given to the bride by her parents, family members or any other person will be restricted to Rs10,000. Furthermore, it will now be illegal for anyone from the groom's family or anyone on their behalf to ask or force the bride's family for dowry. If they still do, they shall be liable to a two-month prison term and a fine of Rs300,000 or both.

The law titled, 'the Khyber Pakhtunkhwa Dowry, Bridal Gift and Marriage Functions Restriction Act, 2017,' states that the total expenditures on marriages, including on baarats or valimas shall not exceed Rs75,000 and other ceremonies, including nikah, baraat or valima shall be concluded before 10pm. Countless women have suffered on account of these oppressive norms and societal expectations. It must be remembered that just some years ago, four Pakistani sisters killed themselves after a row with their father who could not afford dowries for them to get married. These are cases that came to the fore and there are countless more, while the emotional burden of these customs is completely incalculable.

It is hoped that such lives are never lost again and the custom is banned throughout the country so parents can focus on their daughter's upbringing, her education and her wellbeing as opposed to spending to taking loans to fulfil the needs of a her husband's family. The legislation tabled by the Jamaat-e-Islami will have long-term impact and will hopefully make the custom of dowry history. No girl should ever be abused or humiliated because her father could not afford to give her an air conditioner or refrigerator.

Published in The Express Tribune, March 4th, 2017.

Like Opinion & Editorial on Facebook, follow @ETOpEd on Twitter to receive all updates on all our daily pieces.