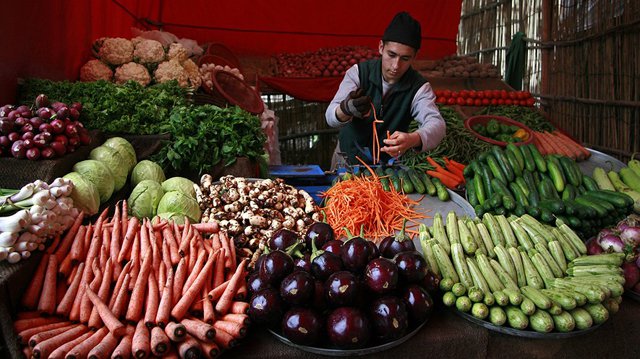 ---
ISLAMABAD:

The pace of inflation increased to 4.2% in February owing to the surge in prices of petroleum products and perishable food items, Pakistan Bureau of Statistics said Thursday.

The annual inflation rate measured by the Consumer Price Index (CPI), which captures the prices of 481 commodities in urban centres, was recorded at 4.22% in February compared with the same month of the previous year, reported the PBS.

Market watch: Stocks bounce back with a bang



The increase in pace of inflation shows the gradually visible impact of the recent increase in petroleum prices as well as rising food prices, said Khurram Schehzad, Chief Commercial Officer at JS Global Capital. He said that these factors have pushed the inflation rate beyond 4%, which was higher than the last-eight month's average.

He said that despite this surge, average annual inflation rate is expected to remain around 5%, below the official target of 6%.

In January, the annual inflation rate had remained at 3.7% due to improved supply of perishable food items, but sugar prices started increasing after the government's decision to allow export of the commodity.

The overall prices of perishable food items increased 7.9% in February on annualised basis. In comparison, prices of non-perishable food items rate surged up 3.1%.

Consumer price index: Inflation rate stays at 3.7%

On a month-on-month basis, prices rose by 0.3% in February over a month ago. The rise in month-on-month inflation was mostly due to higher prices of food items such as tomatoes, peas, oranges and chicken.

Low interest rates

The State Bank of Pakistan has so far resisted the temptation to increase the interest rate, which remains close to historically low levels. In its last money policy announcement, the central bank kept the key policy rate unchanged at 5.75%. Analysts have hoped that the SBP's decision to keep the key policy rate unchanged would ensure price stability in the market.

However, after the government started increasing fuel prices, monthly as well as annual inflation rate have started to surge. In February alone, the index jumped by half a percentage point, reflecting the impact of increase in inflationary pressure.

However, core inflation, measured by excluding energy and food items, slightly decelerated to 5.3% last month, showed PBS data.

November Consumer Price Index: Inflation rate falls to 3.8% from previous month's 4.2%

The PBS reported that prices of tomatoes, chicken, onion, rich and fresh fruits increased in the range of 2% to 29% in February.

On an annual basis, prices of gram whole, potatoes, besan, pulsies, eggs, cigarettes, chicken and other essential items also increased.

On an annual basis, the average prices of drugs and medicines increased 21.3%, cost of attaining education increased over 11%, medical equipment over 10%, doctors' clinical fees 8.8%, house rent 6.6% and woolen cloth by about 6%.

The average inflation during first eight months of this fiscal year (July-February) remained at 3.9%, according to the PBS. For fiscal year 2016-17, the government has set the inflation target at 6% while IMF and SBP projections are below the target level.
COMMENTS
Comments are moderated and generally will be posted if they are on-topic and not abusive.
For more information, please see our Comments FAQ