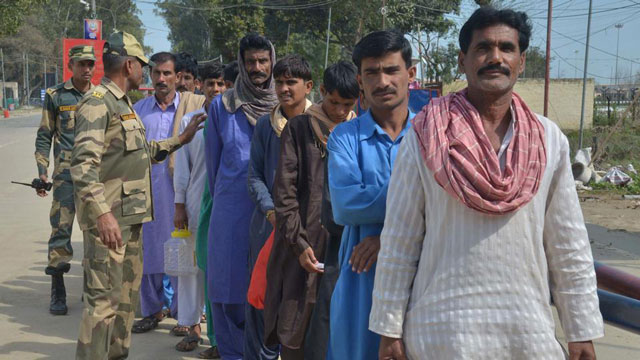 ---
The Indian government released 39 Pakistani prisoners, including 18 fishermen, languishing in jails across the country as a goodwill gesture on Thursday.

India's Border Security Forces (BSF) handed over the prisoners to officials of the Pakistan Rangers Punjab at Wagah border in Lahore, according to Radio Pakistan.

The move came in response to Islamabad's peace overtures. Over two months ago Pakistan released 217 Indian fishermen as part of a "goodwill gesture", taking the total number it has released to 447.

Pakistan returns Indian soldier who deserted post due to 'ill treatment of commanders'

Pakistan also handed over an Indian soldier, Chandu Babulal Chohan, to Indian authorities at the Wagah border on January 21. He was said to be captured by Pakistan Army along the Line of Control (LoC) near the disputed Kashmir valley.

Dozens of Indian and Pakistani fishermen are captured in the Arabian Sea each year after straying across maritime borders. They often languish in prison even after serving their sentences, as poor diplomatic relations between the bitter nuclear foes hamper bureaucracy.

Relations between India and Pakistan have plummeted since a deadly attack on an Indian army base in the disputed region of Kashmir in September, 2016 which New Delhi blamed on Pakistan-based militant group Jaish-e-Mohammed. There have since been repeated outbreaks of cross-border firing, with both sides reporting deaths and injuries.

Kashmir has been divided between India and Pakistan since the end of British colonial rule in 1947. Both claim the Himalayan territory in full and have fought two wars over the mountainous region. An armed rebellion that started in the region in 1989 has left tens of thousands, mostly civilians, dead.