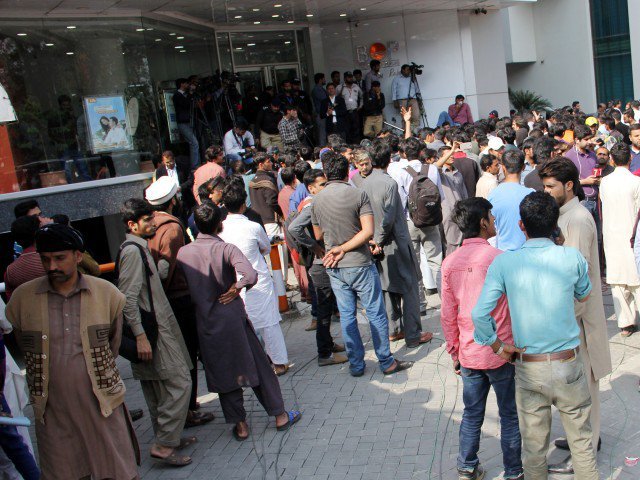 ---
LAHORE: The endless queues at Bank of Punjab branches on Wednesday showed that Lahoris' love for cricket has not faded in the slightest as fans lined up to get their hands on Pakistan Super League Final tickets.

Despite the recent wave of terror attacks in the country, people of the city seemed unfased and were determined to get their pass to the final at Qaddafi Stadium on Sunday. In fact, the sea of people rushing to get tickets clogged traffic around BoP branches at Gulberg Main Boulevard, Edgerton Road and other adjoining areas.

Cricket fans scuffled with police and security officials as branches stopped ticket sales and closed their doors before the scheduled end of the day.

The queues started forming outside different branches of BOP since morning, but some fans were left disappointed when bank officials at the windows announced there were no tickets left for sale.

Cricket lovers paid little attention to the announcements and kept standing outside the banks even after the scheduled hours. Most people converged on BOP branches to get their hands on Rs500 tickets which were not available at any branch till after 1pm.

A bank official, requesting anonymity, said just a few hundred tickets worth Rs500 were provided to the bank for sale.

He added these tickets were sold in a couple of hours, causing great disappointment among sports enthusiasts.

Cricket lover Muhammad Rashid said he had been trying his luck since morning to buy four Rs500 tickets worth for his cousins and friends who were traveling from Nowshera in Khyber-Pakhtunkhwa (KP) to Lahore to watch the final.  "I think we will have to watch the match on television as I don't see any chances of getting the tickets," he said despondently.

Another cricket enthusiast, Almas Khan, complained he had been standing outside the BOP main branch on Gulberg Boulevard since 6:00 am, but could not get a ticket due to the rush.

"It is impossible to reach the ticket window as people are pulling at each other," he said. "I have seen a dozen fights among cricket lovers and bank security staff as fans are not being allowed into the branches," he said.

Kamran, another local hoping to see the final, alleged bank officials were favouring their clients by not selling tickets to the general public. "PSL tickets are like new currency notes which are always unavailable for the common man at banks," he said. "If you have a healthy balance in your account or good relations with bank officials, you need not to worry. Bank officials will provide you PSL tickets at your doorstep," he claimed.

Online sale

The online sale of PSL Season-II final tickets began online at q-tickets.com, psl-t20.com and pslticket.com on Tuesday. Though PSL organisers offered more pricey tickets for the Wasim Akram and Waqar Younus enclosures, fans scooped them up in a matter of hours. For the moment, all the online websites selling the tickets are running 'sold out' banners in bold letters on PSL links.

The black market

Some black marketers are offering different denominations of tickets on Facebook and other social media platforms. An online survey indicates that a VIP enclosure ticket, which was originally Rs12,000, is being sold for as much as Rs30,000. Similarly, the Rs500 ticket is being sold for between Rs1,500 and Rs2,500 on different websites.

Good news

PSL organisers, through their official Twitter account, announced on Wednesday that more tickets were being put on sale for the public through BoP. "Due to limited cap in stadium vs impossible demand, we are reducing corporate commitments & putting more tickets on sale to public thru BOP."

Published in The Express Tribune, March 2nd, 2017.
COMMENTS (1)
Comments are moderated and generally will be posted if they are on-topic and not abusive.
For more information, please see our Comments FAQ