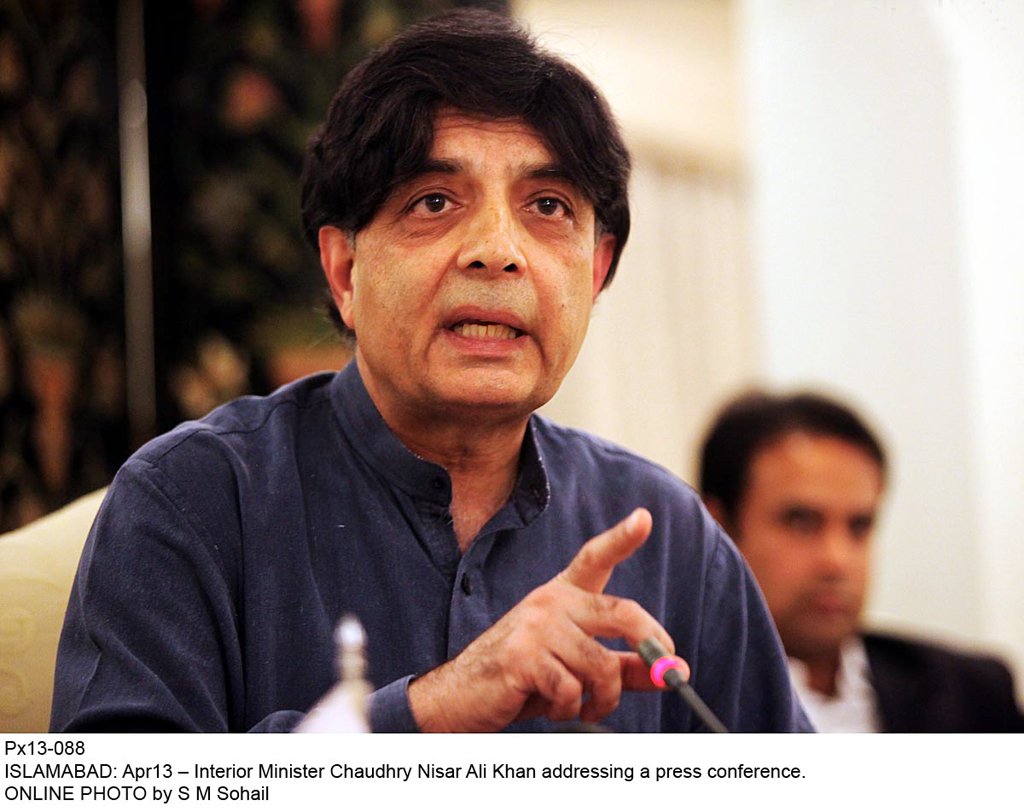 ---
RAWALPINDI/ ISLAMABAD: Days after two brothers were killed in an alleged encounter in Rawalpindi, Interior Minister Chaudhry Nisar Ali Khan took notice of the incident and directed the Punjab government to conduct a judicial inquiry in to the matter.

Irfan Anwar, 38, and Waseem Anwar, 35, had been killed in an alleged encounter with Saddar Berooni police on February 22. Police had claimed that they had raided the house looking for their youngest brother Abdul Manan for stealing motorbikes. However, they (Police) claim they were fired upon.

During an alleged exchange of fire, Irfan and Waseem were killed while two police officials, including the Saddar Berooni station SHO, were injured. The police later booked the two brothers and a third brother Abdul Manan on terrorism charges and for attacking police.

However, the family of the two brothers rejected the police claim, instead claiming that police had killed the two brothers and four of their other brothers.

The family later placed the bodies of the two brothers on Dhamial Road on February 23 and staged a protest, blocking the thoroughfare.

According to a statement released by the interior ministry on Monday, Nisar took notice of the killings. He directed the concerned authorities to conduct a 'fair investigation' into the incident.

The minister also directed the Punjab Government to conduct a judicial inquiry into the incident in addition to a departmental investigation.

Earlier, the family of the two brothers had expressed their lack of faith in the police to conduct an impartial inquiry into the matter and had demanded a judicial inquiry into the matter.

Family yet to be contacted

The family of the two brothers on Monday said that no police or other government official had contacted them about Nisar's directions.

Nadeem Anwarul Haq, one of the brothers who had been arrested by police, told The Express Tribune that his family was not satisfied with police investigations. He said that the police officers who visited their locality on Monday to carry out the probe were the same officials who had tortured them at the Saddar Berooni police station on February 22.

He demanded that Chief Justice of Pakistan take suo moto notice of the incident.

Meanwhile, a team of local police visited Quaid-i-Azam Colony and prepared map of the locality with respect to Irfan and Waseem's house.

The investigation team, headed by Inspector Ishtiaq Cheema, included by Sadar Berooni SHO SI Tariq Gondal and other officials. They spoke with locals and noted their particulars for further inquiry.

A police officer told The Express Tribune that the team had visited the crime scene to investigate the case registered against Irfan, Waseem, their absconding brother Manan, and four remaining brothers.

Published in The Express Tribune, February 28th, 2017.
COMMENTS
Comments are moderated and generally will be posted if they are on-topic and not abusive.
For more information, please see our Comments FAQ