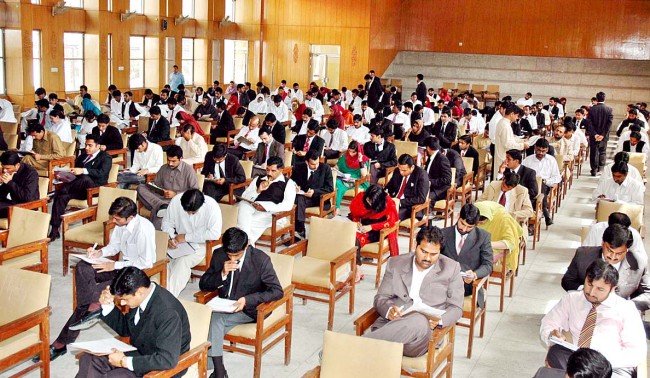 ---
MULTAN: Candidates who appeared in Central Superior Services (CSS) exam 2017 said the news regarding the leakage of CSS exam papers on social media has put the credibility of Federal Public Service Commission at stake.

They said the FPSC is an auspicious and highest authority which selects the officers to run the administration of Pakistan and thus is responsible for conducting fair examination giving each and every candidate a chance to prove his abilities.

More than 500 candidates from Multan demanded fair investigation of the matter on immediate basis.

Court orders holding CSS exam in Urdu

Ali Hussain, a candidate who appeared in CSS 2017 exam, said although FPSC issued a press release and sought FIA's assistance in the thorough investigation of the matter, but still no information has been revealed to the candidates.

"This does not happen for the first time. Earlier, it happened in 2014 when some students were given easy access to the question paper prior to exam and later on FPSC ordered re-examination in Faisalabad," said Zunaira, another candidate. She said the FPSC should reconduct the exam as if this scam proves true, it would give unfair advantage to some students and it would be injustice to the others.

Alarming CSS pass rate

Earlier, a news item appeared in the press about availability of guess/questions papers on social media relating to two compulsory papers of CSS-2017 examination. It has been alleged that the actual questions in the papers were quite similar.

The candidates emphasised the need to develop strong and foolproof mechanisms to maintain secrecy and confidentiality of question papers and other related information at the FPSC.

They opined certain quarters might be making an attempt to cast aspersions on the working of the FPSC .The matter had been taken seriously by the commission and accordingly referred to Federal Investigation Agency to probe and investigate the matter.

FIA Director General ordered to launch an investigation into CSS paper leak scam. Officials claim a woman leaked the CSS examination questions on social networking site facebook some 20 days before the exam date.

They revealed the woman leaked English paper on January 26, while the assessment was held on February 16. The woman also mentioned two queries of current affairs paper on January 31.

The questions asked in CSS examination were same which she wrote on her account. It was learnt that a group had been releasing secret information regarding FPSC and was charging Rs30,000 to Rs80,000 from individuals for such services.

On the other hand, senior bureaucrats said they will soon unearth the reality behind the scam.

Published in The Express Tribune, February 28th, 2017.
COMMENTS (2)
Comments are moderated and generally will be posted if they are on-topic and not abusive.
For more information, please see our Comments FAQ