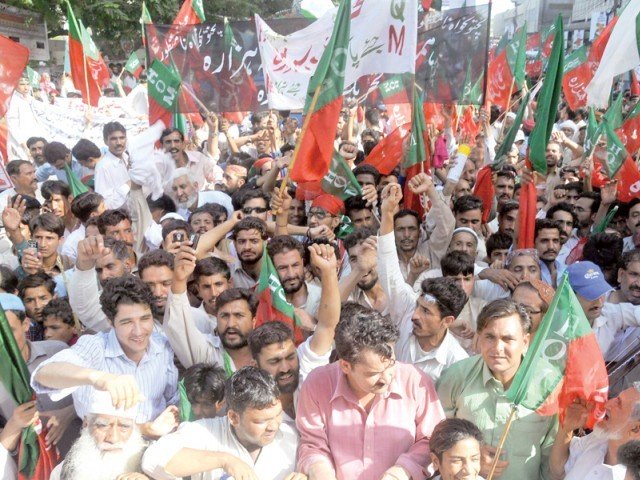 ---
HARIPUR: A day after he was detained when his guards allegedly opened fire at the driver of a tractor-trolley, the leader of the Tehrik Suba Hazara (TSH) party was reportedly injured while in police custody.

However, it was unclear what actually happened with the leader's family claiming that police had tortured him. Police, though, denied accusations of torture, and instead claimed that he had tried to commit suicide and booked him for the offence.

Major (retired) Jamil Kiyani, who had contested NA-19 Haripur during the 2013 general elections on the TSH's ticket, was arrested by the City police on Saturday following a firing incident which left three people injured.

According to City police station SHO Muhammad Sabir, the TSH leader was heading to Khalabat town to attend a wedding ceremony when their motorcade got stuck in a traffic gridlock caused by an errant driver of a tractor-trolley.

Kiyani's guards and the tractor-trolley's driver exchanged harsh words. When a scuffle broke out between them, Kiyani's guards allegedly opened fire at two men, Muhammad Waqas and Tanvir, injuring them. Kiyani's relative Bilal Kiyani was also injured in the firing.

After Waqas and Tanvir filed a complaint with the police, Kiyani, his brother Raja Hanif and 12 others were arrested and booked under section 324/34 of the Pakistan Penal Code.

On Saturday evening, the TSH leader was brought to Sabir's room for questioning. According to Sabir, Kiyani managed to grab hold of an ashtray on the officer's desk and allegedly hit himself on the head with it. The blow caused a gash following which police took Kiyani to the DHQ Teaching Hospital where he received stitches.

After doctors described his condition as stable, and police managed to obtain a one-day remand, he was shifted back to the police station.

Meanwhile, police booked Kiyani for attempting to commit suicide. However, the TSH leader's family rejected the police's version, instead, they claimed that the injury had been caused while City police tortured him.

They claimed that this was a ruse to settle scores by his political rivals from the Pakistan Tehreek-e-Insaf (PTI) who allegedly influenced the police.

Meanwhile, Hanif – who is still in police custody - told journalists that neither he nor his brother or the 12 other arrested had any role in the scuffle and that they had been implicated in a bogus case. He further claimed that police did not register their case of Bilal being injured in firing by those who had blocked the road.

Hanif added that he and his family members had been tortured in custody.

Published in The Express Tribune, February 27th, 2017.