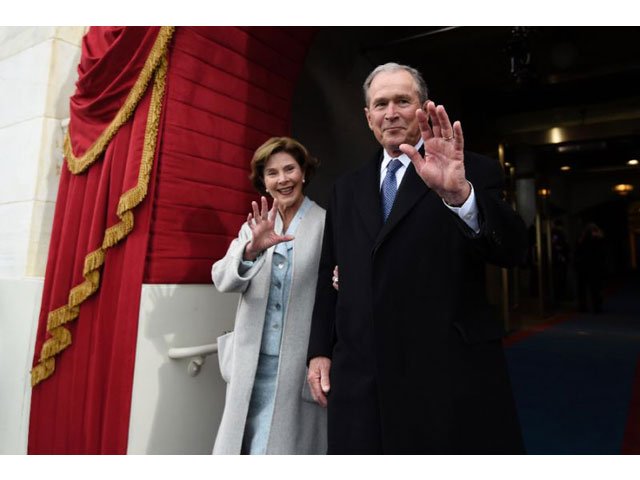 ---
WASHINGTON: Former United States president George Bush has kept a low profile since leaving the White House back in 2009. But he is set to reveal some of the fruits of his second career on Tuesday in a book called "Portraits of Courage."

A collection of paintings of military veterans subtitled "A Commander in Chief's Tribute to America's Warriors," it features 66 portraits of wounded or traumatised personnel he has met who served in the US Army in Iraq or Afghanistan following the attacks on September 11, 2001.

Although the 43rd president has never voiced regret over launching the US-led wars in Afghanistan (in 2001) and Iraq (in 2003), which caused hundreds of thousands of civilian casualties, his book showcases his efforts to help some of the "remarkable men and women who were injured carrying out my orders," as he wrote on his Instagram account.

"I think about them on #VeteransDay and every day," he added in the post showing a photo of him painting one of his impressionistic portraits, which will be on exhibit at the George Bush Presidential Center in Dallas, Texas, from Thursday through to October 1.

12 never-before-seen photos show Bush's response to 9/11 attacks

Bush will donate his profits from the book to the nonprofit centre, whose Military Service Initiative ''works to ensure that post-9/11 veterans and their families make successful transitions to civilian life with a focus on gaining meaningful employment and overcoming the invisible wounds of war," the publisher Crown Publishing Group said in a statement.

Each portrait is accompanied by the veteran's story, written by Bush, who wanted to "honor the sacrifice and courage of America's military veterans," his presidential centre said on its website.

All-but-retired from public life, Bush spends most of his time at his Texas ranch, where he first picked up a paintbrush back in 2012.

In 2014, he unveiled 30 stylised portraits of heads of state he knew as president, including former British prime minister Tony Blair, Russian President Vladimir Putin, German Chancellor Angela Merkel and former French president Nicolas Sarkozy.

The distorted and sometimes only vaguely recognisable faces attracted some withering criticism from art critics who panned his 'naive' or 'clumsy' style.

George W Bush more popular than Obama: poll

Others praised what they saw as the "high amateur" work of someone who, although not formally trained, had clearly studied some art history and painting techniques.

The new portraits of veterans, clearly more accomplished works, show greater mastery over the art.

However, the main interest in Bush's paintings will be what the artist reveals of his feelings about the conflicts he launched and the veterans who bore the consequences of his decision to go to war.

Some 2.5 million US military personnel have served in Afghanistan or Iraq since 2001. Of those, 6,896 service members were killed and more than 50,000 injured, according to a compilation of Defence Department data.