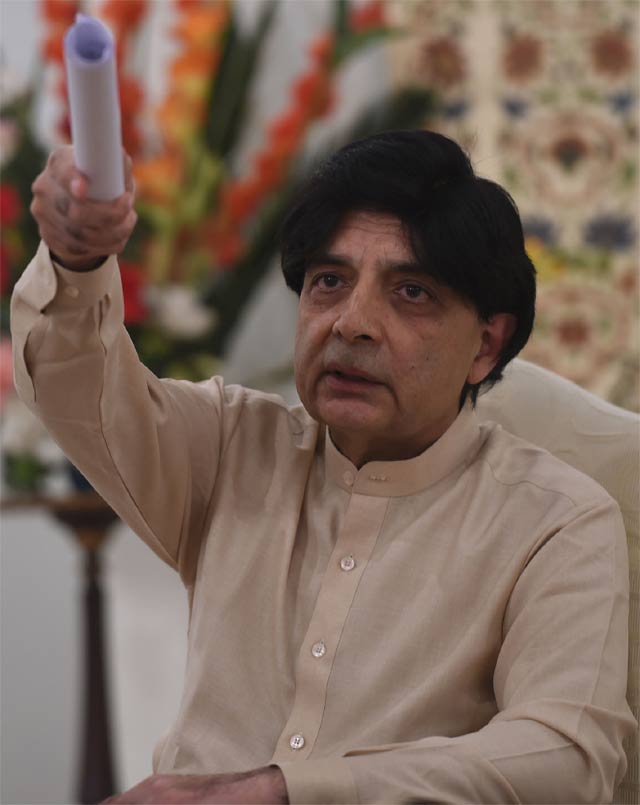 ---
ISLAMABAD: Interior Minister Chaudhry Nisar Ali Khan claimed on Saturday that Pakistan has won the war against terrorism at the operational level, citing the dramatic decline in terrorism since the PML-N government came to power in June 2013.

"We have won the war at the operational level and our enemy will not be allowed to disturb our lives," Nisar told a consultative session.

Co-chaired by Minister of State for Information Marriyum Aurangzeb, the meeting was attended by the presidents and general secretariats of Pakistan Broadcasting Association (PBA), All Pakistan Newspapers Society (APNS) and the Council of Pakistan Newspaper Editors (CPNE).

Amid border closure Extend visas of stranded Afghans: Nisar

The minister said the law and order situation had vastly improved over the last three and a half years. He said six to seven explosions used to occur daily on an average in the past but a significant decline had been witnessed due to the government's efforts in the last three and a half years.

"It is not a justification for any deteriorating situation but it is a fact that the number of explosions has decreased from more than 2,000 to 700 per year.  Out of these 700 explosions, there was no loss of life in 260 incidents," he said.

Alluding to the recent wave of terrorism in the country, Nisar said he had to face a barrage of criticism over the Sehwan attack, even though the Sindh government was wholly responsible for security at the Sufi shrine.

"The chief secretary was asked to explain about the security measures before the Sehwan incident but he had nothing to say," the minister said.

The interior ministry, he said, has been criticised just for the sake of political point scoring. Nisar pointed out it was the mutual responsibility of all stakeholders to ensure implementation of the 20-point NAP. He said the provinces were responsible for at least 10 points of the NAP. "Four points are related to the interior ministry, four to other ministries and one point is related to the army," he added.

The minister claimed that the decision to launch Operation Radd-ul-Fasaad was taken at the PM House in the wake of the last week's terror attacks to curb terrorists and their facilitators in settled areas.

"The decision to launch Operation Radd-ul-Fasaad was taken at the PM House. It is against terrorists and their facilitators inside Pakistan unlike Zarb-e-Azb which was against terrorists at border areas," he said.

Number of blasts in Pakistan have declined since 2013, says Chaudhry Nisar

"Terrorism incidents can't shake our determination. We feel more determined to root out this menace in case of any mishap," he said.

He said a foreign hand was involved in terrorist activities in Pakistan and funding, financing and strategic planning behind terrorism incidents is of our enemies.

Role of media in national unity

Nisar also urged the media to play its role in countering the menace of terrorism and to unite the nation by keeping them insulated against fear and depression.

"The purpose to convene this meeting is to discuss the one-point agenda of countering terrorism. Such a meeting had earlier been convened on January 18, 2015 and the media was urged not to give space to representatives of terrorist organisations.

"I appreciated the role of media in this meeting two years earlier. After that moot the running commentary of representatives of terrorism outfits was completely stopped," he added.

Nisar said the media has great strength and it should play a role to motivate people by keeping them united and determined against terrorism. "The entire nation should be kept united and determined by media for ultimate victory in the war against terrorism," he added.

Border management

Nisar said Pakistan has a porous border of around 2,500 kilometres with Afghanistan and there are multi-faceted issues in this regard. Previously, 30,000 to 40,000 people used to travel through this border with no policy of stopping them or data-bank available to check the movement of people.

"Effective measures have been taken to counter terrorism and the success story is due to efforts of all law enforcement agencies of Pakistan," he added.

(WITH ADDITIONAL INPUT FROM APP)

Published in The Express Tribune, February 26th, 2017.
COMMENTS (4)
Comments are moderated and generally will be posted if they are on-topic and not abusive.
For more information, please see our Comments FAQ