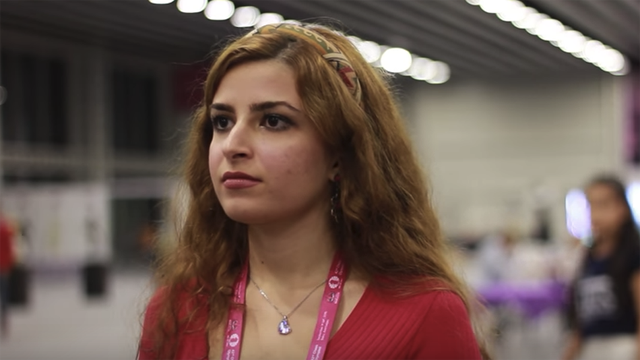 ---
An 18-year-old Iranian chess grand master was recently kicked off the national chess team after she didn't wear the compulsory hijab during a tournament in Gibraltar.

Dorsa Derakhsani wore a simple headband instead of a hijab during the tournament. Since the 1979 revolution, women in Iran are required to wear a headscarf when appearing in public and while travelling abroad in an official capacity.

In a fight against oppression, Iranian women call on Western tourists to violate hijab law

Iran doesn't just enforce the hijab on its own nationals but also requires that non-Iranian women wear the hijab when competing in the country.

Separately, Dorsa's 15-year-old brother, Borna, was also kicked off the team when he agreed to compete against an Israeli opponent. Iran doesn't recognise Israel as a state and the two countries don't face off against each other in sporting competitions. "As a first step, these two will be denied entry to all tournaments taking place in Iran," said Mehrdad Pahlevanzadeh, the head of the Iranian Chess Federation, when speaking to the semiofficial Fars news agency.

"And, in the name of Iran, they will no longer be allowed the opportunity to be present on the national team."

The teen siblings have not publicly commented on the matter.

Prospect of wearing hijab at Iran world championship leaves players fuming

Several tweeted in support of the teenage chess master:


Dorsa Derakhshani,Iranian #chess champion expelled from national team for not wearing the veil.#ForcedHijab pic.twitter.com/IAZxiCmcdq

— Darya Safai MP (@SafaiDarya) February 20, 2017
The mind can never be veiled #DorsaDerakhshani #دورسا #إيران pic.twitter.com/io7dyKJOTB

— Abu Salem (@HamdanKhaldoun) February 21, 2017
Not every hero wears a cape. Some even reject to wear a veil.
Dorsa Derakhshani's head may be bloody, but unbowed.
You are my hero today. https://t.co/GW0SfY85zU

— Amir (@AmirAminiMD) February 21, 2017
This is not right. #DorsaDerakhshani should be able to show the world how clever she is. What she looks like is only her choice ✊️ https://t.co/hL2lC3uOpa

— Cecile Delarue (@ceciledelarue) February 21, 2017


Many sports personalities have protested against the hijab requirement that Iran places on women. Last year, American chess champion Nazi Paikidze did not attend a Iran competition out of protest. "When I learned about the situation in Iran, that ... women are forced to wear hijab, I was heartbroken. I know that a lot of Iranian women are bravely protesting this forced law daily and risking a lot by doing so," said Paikidze in an Instagram post. "That's why I will NOT wear a hijab and support women's oppression."

Ukrainian chess player and former world champion Maria Muzychuk also boycotted the competition because of the hijab requirement.