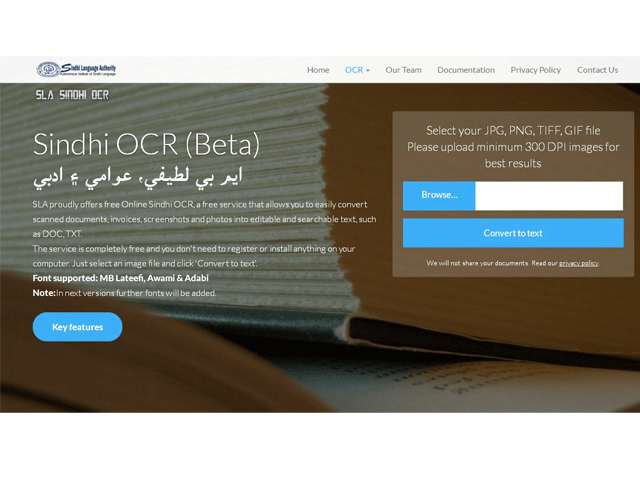 ---
HYDERABAD: A software has been developed that converts typed, handwritten and printed text images of words written in Sindhi language into machine-encoded text.

Dubbed Sindhi Optical Character Recognition (OCR), it was launched during the two-day conference organised by Sindhi Language Authority, which concluded on Wednesday.

"This is the biggest milestone in Sindhi computing after a long period of 30 years," said Amar Fayaz Buriro, the software engineer and employee of SLA whose team developed the Sindhi OCR.

Three decades ago, Abdul Majid Bhurgari pioneered Sindhi typing on computers. In the following years, he kept contributing to the language's advancement on computers and for internet.

Sindhi turns out to be second language of Pakistan

How it works

The software has been uploaded on the website www.sindhiocr.com and can be accessed for free. "The academia, literary people and even foreigners will [benefit] from this software," said Buriro. "Difficulty [in] reading a signboard in Sindhi? Take a photograph on your mobile phone. Convert the image through the OCR and then copy the encoded text to Google languages and translate [it] in any language you want."

Buriro said so far the software can convert the images from only three Sindhi fonts, which include MP Latifi, Awami and Adabi. "But 90% of Sindhi in newspapers, books and magazines is written in these three fonts. So an overwhelming majority of the people wanting to convert images into editable text will not face a problem."

Buriro added that OCR's mobile application will soon be developed while the remaining Sindhi fonts will also be incorporated. "We created this software with a small budget [and] a very dedicated team of language engineers."

Proud heritage: Resolution adopted to declare Sindhi national language

According to Culture Minister Syed Sardar Shah, the development of OCR is like a rebirth of Sindhi language. "Now Sindhi language's survival and development is also in the hands of experts skilled in computing," he said.

Let's learn Chinese

He praised Buriro for his achievement, saying that the coming generations will always remember and honour him. Underscoring the importance of China-Pakistan Economic Corridor project, the minister said the department will launch a short course of Chinese language learning in Karachi and Hyderabad.

"Many laws on Sindhi language have been passed in the provincial assembly but implementation is not being made," he acknowledged with reference to the teaching of Sindhi language in schools.

'Punjabi, Hindko, others will be written in Sindhi script'

Shah also expressed the desire to preserve the historic forts in Sindh, especially the 18th century Pucca Qila in Hyderabad. "But its [preservation] is stymied by a political stumbling block as around 100,000 people live in the fort."

Writer Dr Suleman Shaikh described the launch of Sindhi OCR software as a 'defining moment'. He encouraged the people to communicate in Sindhi language on their mobile phones and computers. Dr Shaikh regretted that the government has failed to ensure that private schools teach Sindhi to students.

Niaz Panhwar, news editor of Daily Kawish, suggested that Buriro's name should be recommended for the highest award for this contribution.

SLA chairperson Dr Abdul Ghafoor Memon, MPA Fakirdad Khoso and others also spoke at the event.
COMMENTS
Comments are moderated and generally will be posted if they are on-topic and not abusive.
For more information, please see our Comments FAQ