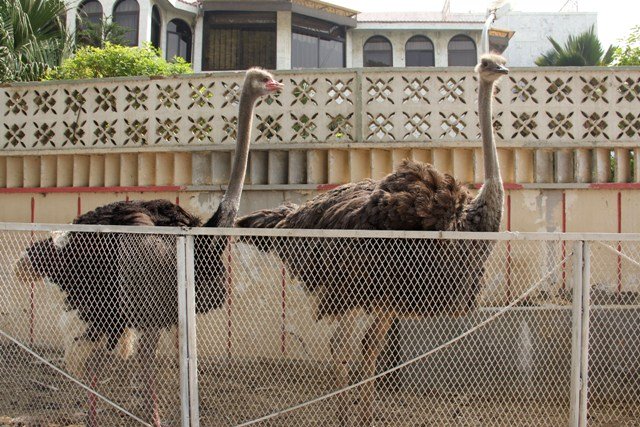 ---
KARACHI: If you are walking on or passing by the streets in Faran Housing Society in Karachi's Bahadurabad area, you may find yourself stopping to stare at the two seven-and-a-half-feet tall ostriches and two furious rams that reside in the area.

These unique pets belong to Aleem Paracha, who stands casually petting the necks of his two ostriches outside his house.

Paracha is fond of animals and has more than 30 animals living at his house, with the ostriches, rams and peacocks kept outside the house in an enclosure fenced off by a three-foot-high metal fence. He also has deer, hens and rare birds inside his house in cages.

City's troubled animals welcome all to their impressive castle

"I bought these two ostriches five years ago from South Africa; they were just chicks then," said Paracha, adding their value is now around Rs0.5 million each.




He inherited an interest in pets from his father. Paracha said he personally prefers the male ostrich, as it has shiny feathers and a pink beak. An ostrich's eggs are the biggest on Earth, with an average weight of 1.8 kilogrammes, which is roughly equal to 40 hen eggs.

The animals are looked after by Paracha and his friend, Asim Zaman, who share a love for animals, especially birds.

The ostriches roam around their territory and are friendly enough to pose for selfies with passersby. "I come here every day to play with them," said six-year-old Ayan Ali who lives down the street.

Save our animals: Seminar calls for protection of Thar's wildlife

He said he visits the animals daily and has become friends with them. "[My friends and I] play cricket here and even tease the ostriches and peacocks but they never hurt us," he said.

The care and feeding of rare animals

"We have tried to breed the ostriches here but their eggs are so huge that they need special incubators and cannot be hatched in the ones we use for other birds," said Paracha adding, that they tried incubating 10 eggs a few years ago, of which four baby ostriches were born but none of them survived. After that incident, they started selling the eggs in the market for Rs5,000 each.




Almost all the animals in the house have the same eating habits — they eat grass, wheat, oats, flakes and gram. "We buy food in bulk for the whole month, which costs an average of Rs20,000 per month," shared a guard, who takes care of the animals when Paracha and Zaman are both at work.

Paracha, who also runs his family business of garments and handicrafts, travels extensively for work and has hired two kids specially to look after the rams, who are only friendly with children. The rams were brought from Khyber-Pakhtunkhwa.

"He plays with us we feed him while sitting beside him," said the 10-year-old caretaker of the rams, petting one who was chained because the two animals often fight each other and bump their heads into the wall.




The duo also has rare species from Africa, the Vulturine Guineafowl. According to Zaman, only 10 birds have been exported to Pakistan, of which only four are alive.

To protect the animals and the people living in the area, Zaman and Parachi have hired eight guards and have installed cameras to keep an eye on the activities of the animals.




They said they have obtained licences for all the species they are housing. For animals not found in local forests, there is no licence needed, explained Paracha.