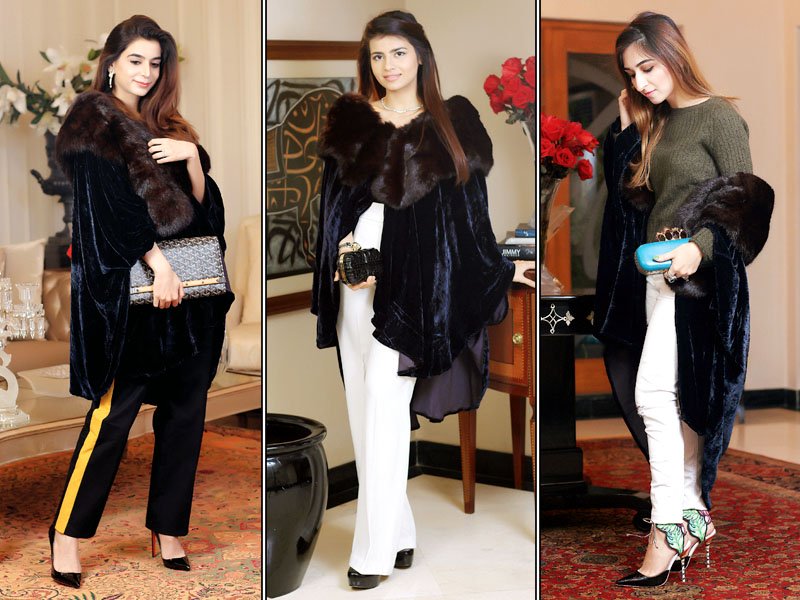 ---
While trends fade, style remains eternal and one piece can be put together in many different ways. In this feature we have three fashionistas showing us how to put together an item from a designers collection, according to their own individual style and taste!


This luxurious, bleu French velvet, mink-trimmed, fur cape is an integral part of Meezan Fahd's debut collection. The cape not only has a rich, royal look but is super-warm and comfortable too — an ideal choice for formal winter events. This is a versatile, classic piece, which can be styled in a variety of ways.

Iman Ahsan




Barrister

I would describe my personal style as feminine and classic. I styled this Meezan Fahd cape with side-striped pants from Zara and a black top. To complete my look, I added a Goyard clutch and patent black Christian Louboutin heels. To accessorise, I wore my mother-of-pearl earrings and ring. I kept my hair straight and for my make-up, I went for a dewy look. I would wear this outfit to a formal dinner.

Fatima Malik Kamil 




Lawyer

I would describe my personal style as either understated yet elegant or sporty-casual. I was aiming for a classic, formal look for this beautiful Meezan Fahd cape, so I styled it with white flare pants. I then added an Alexander McQueen clutch and wore Steve Madden black pumps. For accessories I wore a diamond string necklace to give my outfit a regal touch, and also wore my everyday watch by Pandora, with a bracelet. I would wear this ensemble to a formal lunch or even a dinner.

Ayla Tayyib




Lawyer

I would describe my personal style as classic. You'll usually see me in an all-black ensemble with statement heels. I styled this luxurious cape with white ripped jeans, a green sweater and my everyday jewellery, which include my pearl earrings, a statement ring and my Cartier bracelet. To add a quirky touch, I wore my Sophia Webster heels and a blue Alexander McQueen clutch! For my hair I went for an inward blow-dry and for my make-up I opted for smoky eyes with MAC's 'Pink Pigeon' lipstick. I would wear this look to a formal brunch.