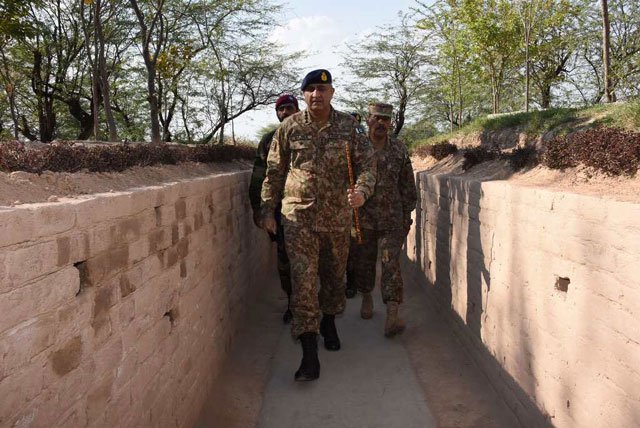 ---
Chief of Army Staff (COAS) General Qamar Javed Bajwa has said that India's 'unprovoked' ceasefire violations (CFVs) along the Line of Control (LoC) are an attempt to distract Pakistan Army from its fight against terrorism.


LOC Visit. Army will protect people of Pak & AJ&K. Our solidarity with people of Indian Occupied Kashmir for right of self determination. pic.twitter.com/rrC7Z1Hdfz

— DG ISPR (@OfficialDGISPR) February 21, 2017


"Indian CFVs have a design. On one side it is an effort to divert world's attention from its atrocities against innocent Kashmiris, on the other; it is an attempt to dilute our response against terrorism and militancy," the Inter-Services Public Relations quoted the army chief as saying as he visited troops on LoC at Mattewala, Munaawar sector on Tuesday.

"The targeting of civilians along the LoC is deliberate and highly reprehensible," Gen Qamar said, adding the army was fully aware of the Indian designs and its support to terror in Pakistan and the region. "Indian spy Kulbhushan Jadhav is one such evidence of these efforts and his case will be taken to the logical conclusion."

Four TTP commanders killed in FR Tank raid


#COAS visited LOC.Aware of Indian design, her sp to terrorism in Pak/region. #Kulbhushan an evidence. His case ll be taken to logical concl. pic.twitter.com/ZJrmDFRXiD

— DG ISPR (@OfficialDGISPR) February 21, 2017


Jadhav, who was arrested last year in March, is an Indian spy, who confessed his country's involvement in destabilising Pakistan by supporting the Baloch separatist insurgency.

Vowing to protect the people of Pakistan and Azad Jammu & Kashmir against forms of Indian aggression, the army chief said: "We will continue our solidarity with people of Indian held Kashmir who are struggling for their right of self-determination."

The restive Himalayan region suffered a rise in violence last year after the killing in July of a popular young rebel leader in a gun battle with soldiers. Kashmir is divided between India and Pakistan, but both claim it in full.

Lauding the operational readiness of the troops, Gen Qamar directed that unprovoked Indian cease fire violations be responded effectively. "Pakistan Army soldiers are known for their professional competence, motivation and selfless devotion for defence of our motherland and are backbone of the army," he said.

Last week, three Pakistan Army soldiers were killed by Indian firing along the LoC.

According to the ISPR, Indian forces committed at least 178 ceasefire violations along the LoC and Working Boundary in 2016, killing 19 civilians and injuring 80 others.
COMMENTS (10)
Comments are moderated and generally will be posted if they are on-topic and not abusive.
For more information, please see our Comments FAQ