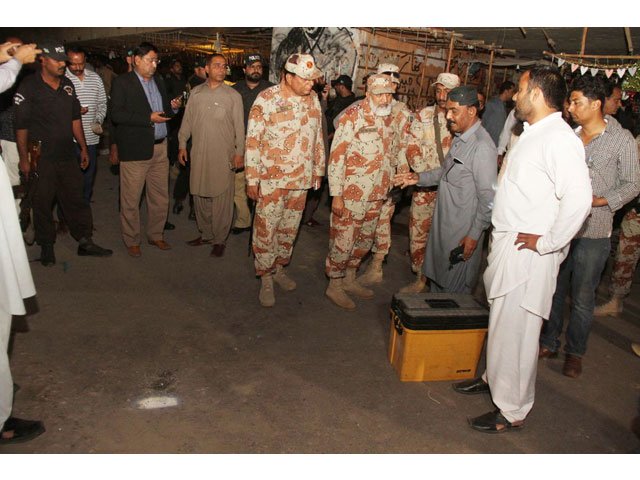 ---
HYDERABAD: The relatives of Jeay Sindh Muttahida Mahaz's (JSMM) self-exiled leader Shafi Muhammad Burfat were detained, hours after a cracker explosion in Hyderabad on Sunday night.

"Rangers broke in the houses of our relatives in Sindh University society late last night and took away nine persons," Irfan Burfat, president Jamshoro Press Club told The Express Tribune. Local police, he said, are denying that they have been picked up.

Over a dozen other persons were reportedly picked up late at night by Rangers in parts of Jamshoro. A journalist working at the Sindh Express newspaper, Shafi Burfat's brother-in-law, Ghulam Rasool Burfat, was among those detained.

Sindh to begin 'grand operation' against militants, terror outfits

Meanwhile, relatives of the nationalist leader staged protest in Jamshoro. "They were beaten during the raid. Rangers also took away licensed weapons [from the scene]," protesters alleged.

On Sunday, unidentified assailants riding a motorcycle hurled explosives from above Abdul Wahab Shah Jilani flyover on the shops, leaving 16 injured, 12 of whom required treatment. The incident occurred in the precincts of Makki Shah police station.

An FIR was subsequently lodged nominating unidentified attackers containing clauses of Anti Terrorism Act, Explosives Act and Pakistan Penal Code.

At least 16 injured in Hyderabad explosion

The attack was believed to be linked with JSMM call for a strike in the province, which could not gain impact as routine activities remained as usual.

Arrested persons

Those arrested include Shafi Muhammad Burfat's elder brother Habibullah Burfat and his sons Hosh Muhammad and Hameer Khan, brother Zaheer Burfat, father-in-law Muhammad Qasim Burfat and his sons Azam Burfat and Asif Burfat, brother-in-law Mukhtiar Burfat.