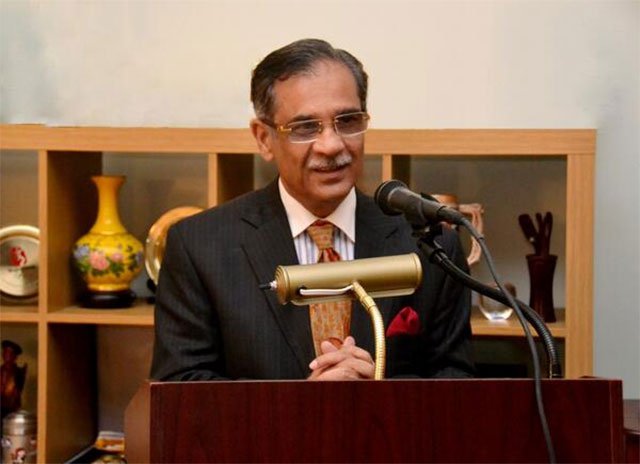 ---
ISLAMABAD: Chief Justice Saqib Nisar has accelerated the process of self-accountability within the judiciary with as many as five superior court judges appearing before the Supreme Judicial Council over the last two weeks.

Sources told The Express Tribune that the council has held three meetings in the last two weeks as five judges were invited to offer explanations over complaints of misconduct lodged against them. Three of them belonged to the Lahore High Court while two belonged to the Islamabad High Court, the sources said.

Without dropping proceedings against any judge after hearing their explanations, the council asked the judges to submit a written reply within 15 days, according to sources. The council also sought a written reply from the LHC judge whose name was included in the Panama leaks.

The council is expected to resume proceedings against the five judges next month.

It is also learnt that one of the IHC judges had demanded that the council's proceedings should be held in public. However, the SJC's rules say that the proceedings should be held in camera.  The sources said that a few of the accused judges could challenge the SJC proceedings in the apex court if the trial is initiated against them in camera.

The sources also revealed that a show cause notice had been issued to one Sindh High Court's judge as well.

Former CJP Anwar Zaheer Jamali had vowed that the SJC would be activated during his tenure. Though a number of SJC proceedings were held but the trial of any accused judge could not be started.  However, the council had dropped its proceedings against one LHC and one Peshawar High Court judge during the ex-CJP's tenure.

Supreme Court Bar Association president Rasheed A Rizvi while talking to The Express Tribune appreciated the CJP regarding his efforts to ensure self-accountability.

He, however, demanded that the council should hold the hearings in public which would help restore public faith in the judiciary. "If the cases of prime minister and president are being heard in open courts, why are the complaints against judges being examined in camera?" he asked.

According to Article 209 of the Constitution, the SJC comprises the chief justice of Pakistan, two senior most judges of the Supreme Court and two senior-most chief justices of high courts. The council is also empowered to hear complaints against top government functionaries such as the NAB chairman, ECP members, AGP, etc. SJC's proceedings are always in-camera and the Supreme Court registrar serves as secretary to the council.

No judge has been ousted by the SJC for more than 40 years.

Published in The Express Tribune, February 20th, 2017.
COMMENTS
Comments are moderated and generally will be posted if they are on-topic and not abusive.
For more information, please see our Comments FAQ